Empower your Procurement Process with Spreadsheet Mastery: Streamline Data and Improve Quality
August 1, 2023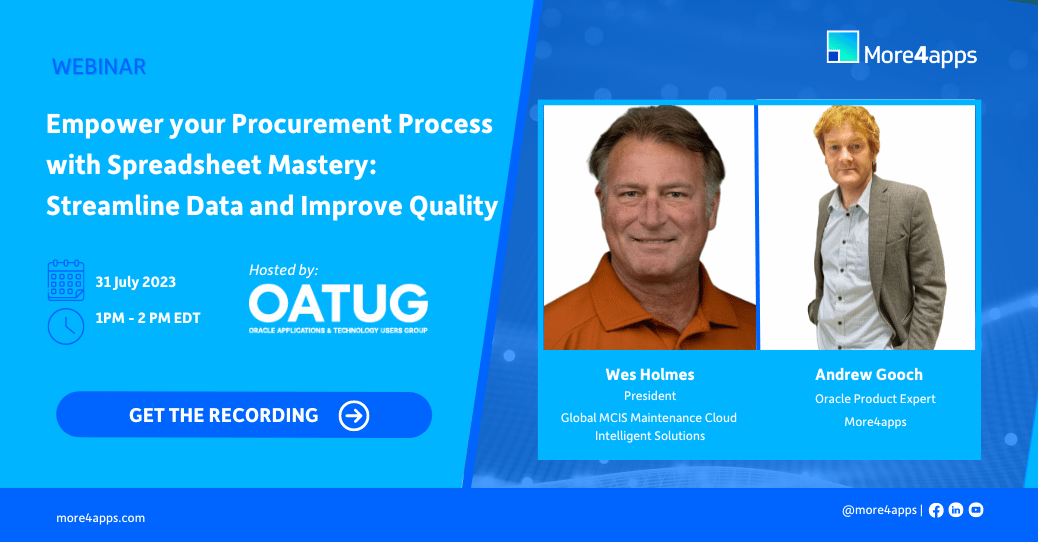 On-Demand Webinar
Procurement processes are empowered with an Excel spreadsheet. Rolling out your Oracle Procurement Module with a spreadsheet removes the need for training, increases accuracy, and reduces employee turnover.
Companies require transparent and effective procedures for converting requisitions to purchase orders. For those involved with this procurement process, communication must be clear and timely.
Watch the webinar recording and learn the best practice methods and benefits for requisition, purchase order, and blanket release entry, while establishing a simplified process and commonplace for your users.
Complete the form to get the webinar recording!
---
Webinar Learning Objectives
See how inefficient procurement processes can result in delays, errors, and higher costs.
Reduce supply chain issues and improve data accuracy.
Learn how integrated spreadsheets can be a solution to your data entry challenges.
Appreciate the line between IT and end-users and the challenges of providing the right tools for the right job.
---
Meet the Presenters
Additional Resources
Visit our resource library for additional materials or get in touch with an expert today!
Connect with us on our social networks | @more4apps