Modern Day Challenges Faced by Procurement Professionals
September 9, 2022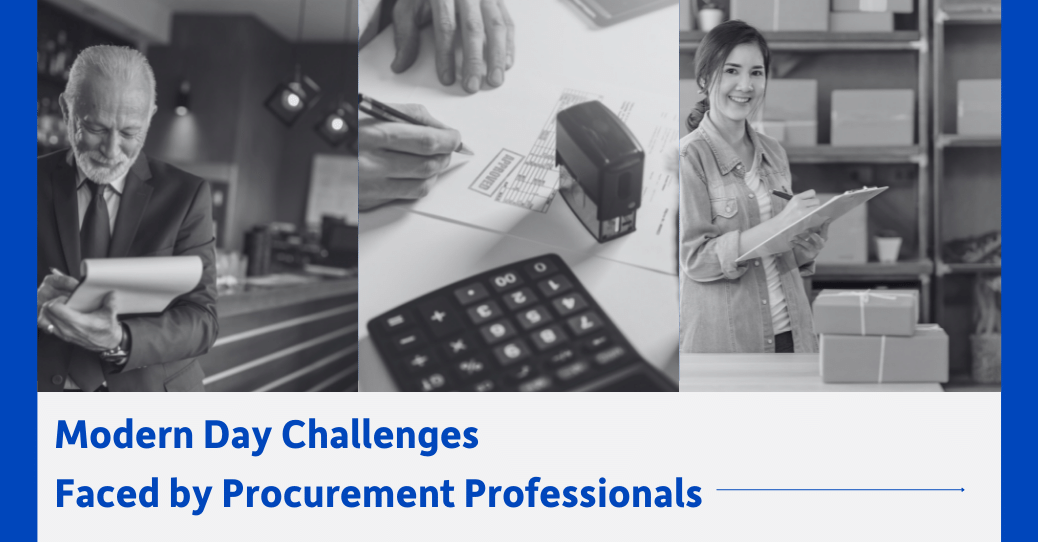 Work in procurement can be difficult, deadlines shift, responsibilities morph from needs identification to vendor management or payment processing.
For the modern professional, looking after business spend and proper procedures is a constant source of worry.
Procurement teams struggle to tackle common challenges between the constant demands of purchase requisition management, purchase order processing, contract/account management, and supplier lifecycle management.
For instance, the following challenges haunt businesses of all sizes.
Risk Mitigation
Supply risk is always a challenge in this process. Market risks, potential frauds, and cost, quality, and delivery risks are the most common risks. Compliance risks like anti-corruption, policy adherence, and more tend to keep your procurement leaders up all night.
Dark Purchasing
Purchases made outside the defined procurement process fall under dark purchasing. Uncontrolled spending like this can be expensive for companies. As a result, when purchased items aren't accounted for using capital outlay or material inventory, the loss of revenue and control is significant for offices.
Long Process Cycle
Most often, products and services obtain a sense of urgency. However, as a result, lead times and buying cycles tend to be longer than expected.
Here are some common delays our customers have experienced:
Delays in preparing technical specifications/TOR/SOW
Overlooking the buying schedule
Extending the period of time to submit bids or proposals
Failure to start the review process on time
Setbacks in contract review
Inaccurate Data
To make sound procurement decisions, companies need reliable data. Being that purchases made because of invalid data leads to more challenges, like less or excess inventory, which have great potential to impact the bottom line directly.
Strategic Procurement
As the process continues to become more planned and collaborative, operations realize the benefits of having a solid procurement strategy.
Understanding the implications of every step and deciphering ways to execute it across all units of business is a challenge.
Supplier-related Issues
One of the biggest challenges in procurement is supplier management. From picking out the right supplier to keeping track of vendor performance and ensuring a stable supply of quality products, the process is filled with complications.
Fix Challenges and Release your Procurement Manager
Procure-to-pay software featured in our EBS Toolbox reduce risks, processing time, and overall cost, freeing the team to focus on human-centric tasks.
Irrespective of company size, it enables companies to buy smarter, streamline their purchase-to-pay cycle, and better manage supplier relationships.
Remove Procurement Barriers with the Best Tools
With a constantly changing marketplace and technology evolving almost overnight, challenges in the procurement world are on the rise. Hence, getting a better handle on the intricacies of the procure-to-pay process will help businesses thrive and meet their goals.
Do any of these challenges sound familiar? Are they holding your business back? It might be time to review your procurement system.
Talk to our team to learn how our tools will help your company simplify your procurement process and drive it forwards to success.