ASCEND
By Rachana Haste
September 13, 2022
Event
ASCEND is the Oracle user community event that unites functional users, IT professionals, and expert resources for frank discussion and practical education to elevate insights and improve decision making, project planning, and business operations. Make plans now to reconnect with the Oracle community June 12-15, 2022 at the sleek and sophisticated ARIA Resort & Casino in Las Vegas.
Presented by the Oracle Applications & Technology Users Group (OATUG) and Oracle HCM Users Group (OHUG), ASCEND will deliver:
Actionable insights
Time- and money-saving strategies
Opportunities to connect with potential partners and others in our global user community
This event is for you if you:
Are a prior attendee of the OATUG Forum at COLLABORATE or the OHUG Global Conference
Use or are considering using Oracle E-Business Suite, Peoplesoft HCM, Oracle Cloud Applications, Oracle Database, or Taleo
Want to connect and network with the Oracle user community
ASCEND will bring together two of Oracle's largest, most vibrant user groups for another event experience that offers high-value, unique opportunities for those who participate in-person while also making key and core aspects of the event available to those only able to join online.
Mark your calendars: June 12th, 2022 | 2:30 PM – 3:30 PM
Join us for a Cost Management SIG presentation, "OATUG Cost Management SIG Presents: Better Cost Accounting with Oracle and Your Cost Management SIG."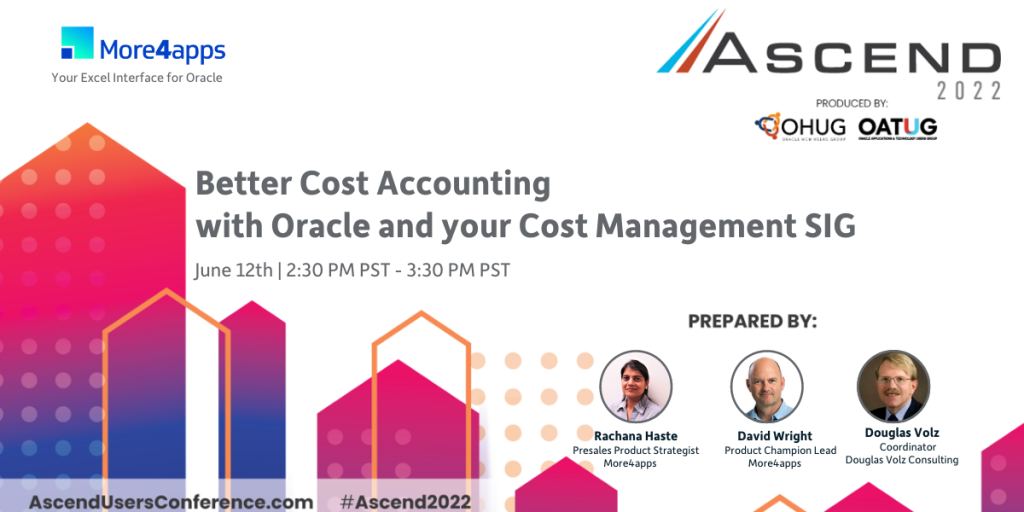 Presented by Doug Volz and Rachana Haste
The Cost Management SIG provides a forum to promote understanding of Cost Accounting and how Oracle EBS and Fusion Cost Management help people with their everyday tasks. This session starts with a brief introduction to the OAUG Cost Management SIG followed by presentations from Oracle Cost Development for both the Fusion and EBS Cost Management Roadmaps, upcoming features and enhancement requests. Followed up with More4Apps presenting on how their solutions help make your Fusion and EBS Applications day-to-day tasks more efficient.
---
Meet the Presenters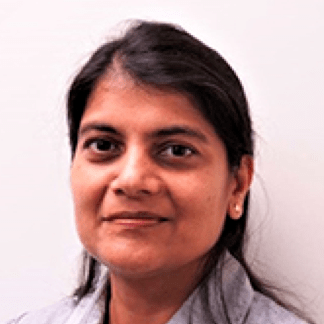 Rachana Haste, Pre-Sales Consultant at More4apps
Rachana's Oracle story started just after she finished studying Electronics Engineering in India. Following her degree, she moved to the U.S for Oracle E-Business Suite implementation and support services and has been working in this space for 15+ years. Her knowledge of EBS has taken her to many different customers across the world helping implement various modules.
Rachana decided to join the More4apps team when she wanted a change to the products world from the IT services sector. She enjoys working with different clients and businesses as they have a variety of challenges. When she's not at work, she enjoys reading, watching Science or History channels with her sons, hiking, biking, and exploring countryside trails. Never forgetting her roots, her song of choice at karaoke would be the very popular Bollywood classic – Chura Liya hai tumne jo.
---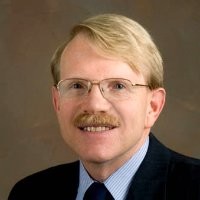 Doug Volz, President at Doug Volz Consulting
Doug is an experienced Oracle Applications (ERP) Project Manager, Business Process Transformation Consultant, Systems Designer and Functional Consultant having over 35 years of experience across fifteen countries, with numerous Oracle Application User Group awards:
20+ years managing and implementing Oracle Financials, Distribution and Supply Chain Apps projects, with a specialty in Cost Accounting
5+ years designing cost and manufacturing systems at Oracle Corporation
10+ years cost and general accounting management for manufacturing and distribution firms
Industries include Software, High Tech, Aerospace & Defense, Telecommunications, Building Construction, Medical Instruments, Pharmaceutical, Industrial Products, Oil & Gas, Food Processing, and Government. Doug is one of the leading specialists for Cost Management solutions, with a solid functional and technical understanding of the related inventory, supply chain, projects, and financial modules, for both EBS and Cloud Applications.
OATUG Awards:
2014 OATUG Member of the Year
2018 OATUG Associate Star Presenter of the Year
2018 OATUG SIG of the Year (Cost Management SIG)