Purchase Requisition to Purchase Order Process: How to Automate & Simplify in Oracle Fusion Cloud ERP
July 20, 2023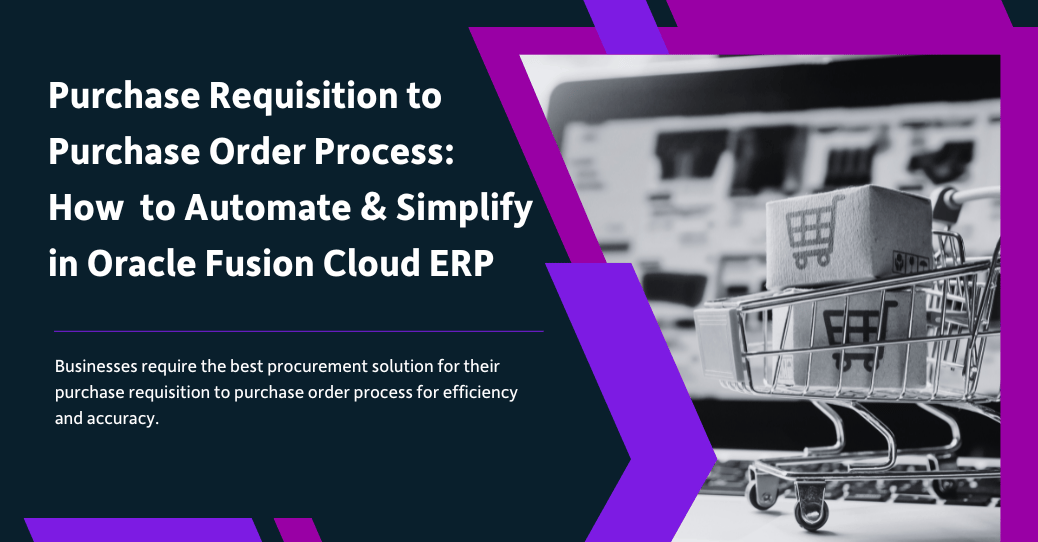 Businesses require the best procurement solution for their purchase requisition to purchase order process for efficiency and accuracy.
The purchase requisition to purchase order process for those in procurement who work in Oracle Fusion Cloud ERP, know that they need to convert requisition lines to purchase orders in an accurate and timely manner.
Oracle offers Document Builder, a feature known as auto create in Oracle EBS, that allows you to automatically create standard purchase orders from available requisition lines. The Document Builder screen is used to search for requisition lines, select the lines for a supplier and site, then create a purchase order for the selected requisition lines.
However, the purchase requisition to purchase order process is tedious and time-consuming. This is especially true when dealing with multiple requisitions, suppliers, items, and document types.
Buyers may face issues such as:
Lack of validation and customization options for the data uploaded or downloaded from Oracle.
Complexity and inefficiency of the document creation process, which requires multiple steps, criteria, and modes.
Difficulty in consolidating requisition lines, which results in multiple purchase orders to the same supplier.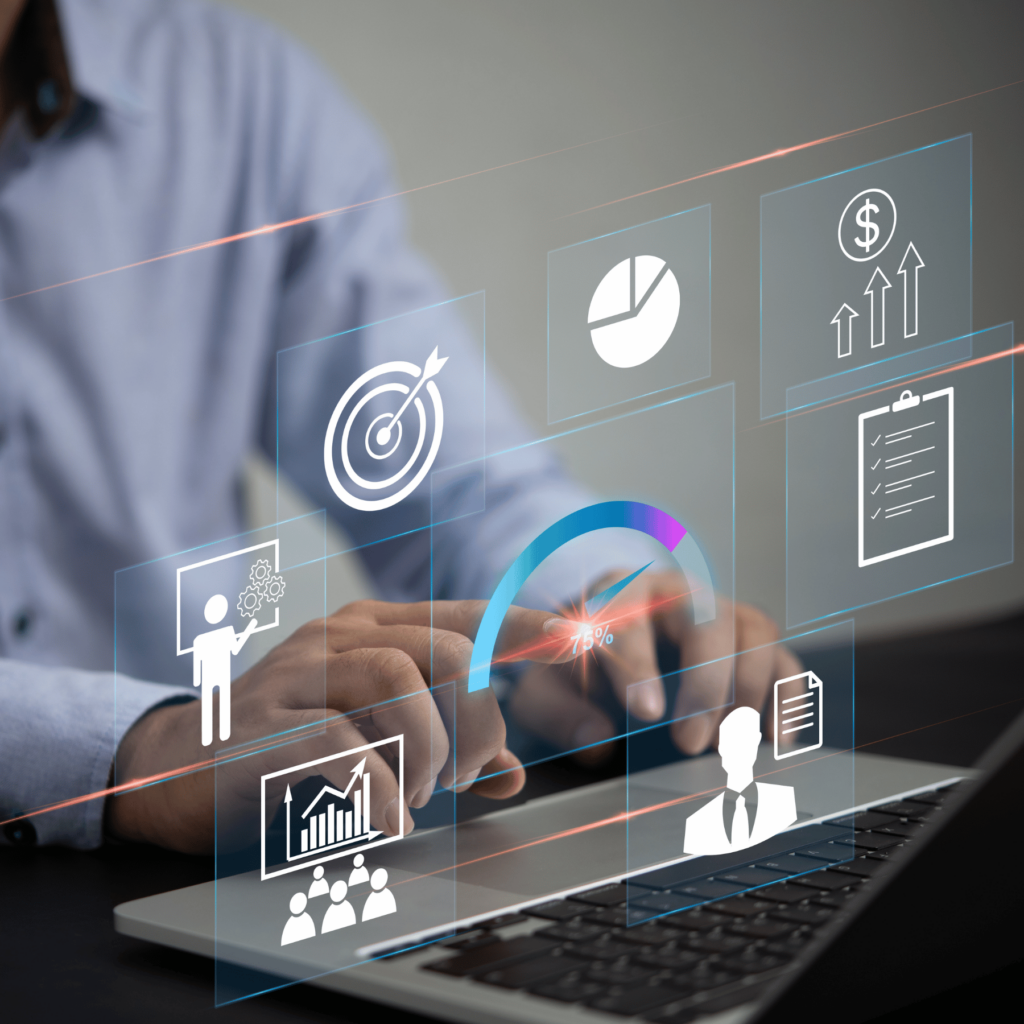 So how can your organization overcome these challenges and make your procurement process faster and easier? The answer is to automate and simplify!
The Benefits of Procurement Automation
Automation can help you streamline and improve procurement processes – here's how:
Improving efficiency: Automating repetitive tasks ensures a smooth and efficient purchase requisition execution process allowing teams to focus on strategic tasks rather than data entry.
Eliminating errors: Simplifying the purchase request process and streamlining how goods and services are procured in an organization saves time, money, and resources.
Reducing buyer input: With purchase orders being automatically generated and sent to suppliers, buyer input can be reduced to dealing with anomalies and one off issues.
Getting the goods/services to the requisitioners faster: Reducing costly off catalog purchasing.
The benefits of automating your procurement process are that the automation saves requisitioners, buyers, and suppliers a lot of time and effort and improves productivity and performance with fewer manual touchpoints, reducing errors and delays.
The Challenges of Automation
Automation is not always possible or practical. Sometimes, you may need to manually create purchase orders from requisitions, which can happen when:
Sourcing changes often require frequent adjustments or updates.
There is a high need for flexibility in who you procure from.
Setting up the blanket agreements, quotations, approved suppliers, and sourcing rules is required.
The range of goods and services makes automation greater than the effort to manually create purchase orders.
The Benefits of Oracle Document Builder
The Oracle Document Builder functionality allows buyers to manually create or add to purchase orders from selected requisition lines, or if they generate one purchase order for every requisition (need to create requisitions by supplier), then it may suffice for the work effort involved.
It's a matter of volume – if the volume of data is small, then it's very efficient.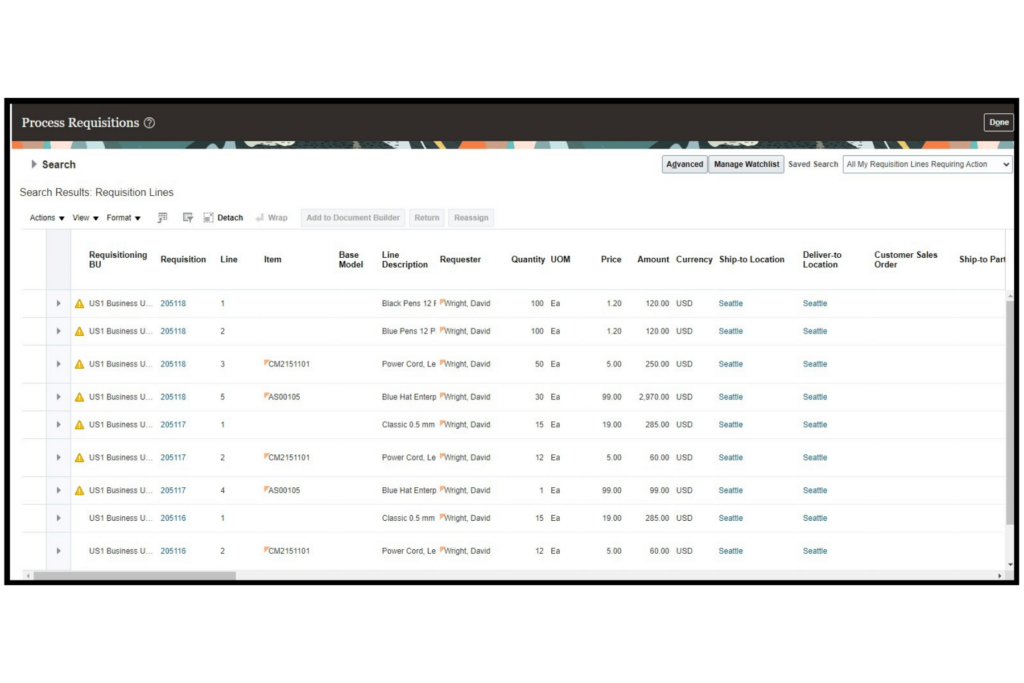 The Challenges of Oracle's Document Builder Screen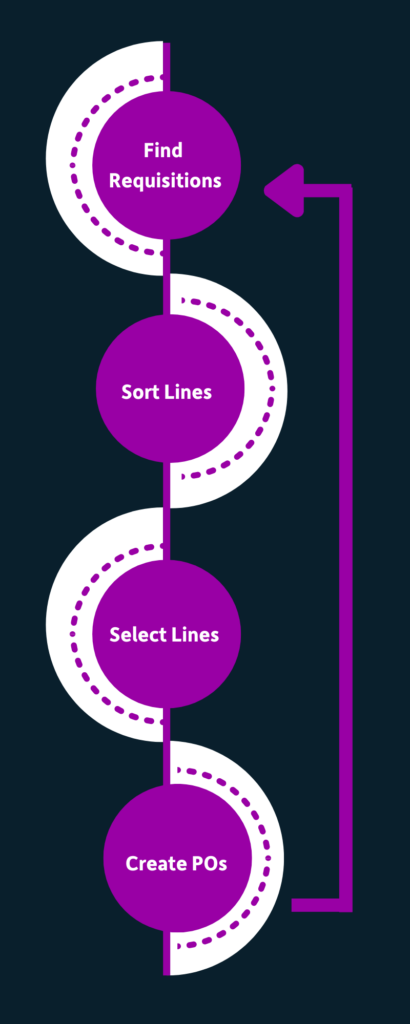 Oracle's Document Builder functionality has its limitations and drawbacks.
For example:
Buyers are required to sort the requisition lines in a limited screen area.
The select and add process is by requisition line at a time. Yes, you can select multiple, but there could be gaps (unselected lines). You can only see nine requisitions lines on the screen at once since choosing each record isn't instantaneous.
One purchase order is created at a time, forcing buyers to go back and select more lines for the next purchase order and so on.
The standard user interface is designed for simple, small volumes of requisition lines, creating complexity and inefficiency for large volumes of requisition lines.
It's sensitive to variations in requisition volumes and the quality of sourcing data, which can affect the workload and performance of buyers.
These challenges can make manual document creation a frustrating and time-consuming process for buyers. They can also affect the quality and timeliness of the purchase orders, which can impact the relationship with suppliers and the satisfaction of customers.
Turn Requisition Lines into Purchase Orders with Excel
So, what can you do if you can't automate your procurement process but don't want to deal with the hassle of manual document creation?
The solution is: The More4apps ERP Cloud Toolbox!
The More4apps ERP Cloud Toolbox is a powerful application that allows buyers to download unfulfilled requisition lines in Excel, where they can choose to sort lines and build the purchase orders more easily.
The More4apps Procurement Module Document Builder allows buyers to create multiple purchase orders at once, allowing them to work through the entire set of requisition lines quickly and easily within an Excel spreadsheet. As with automation, it has many benefits over the standard Document Builder screen.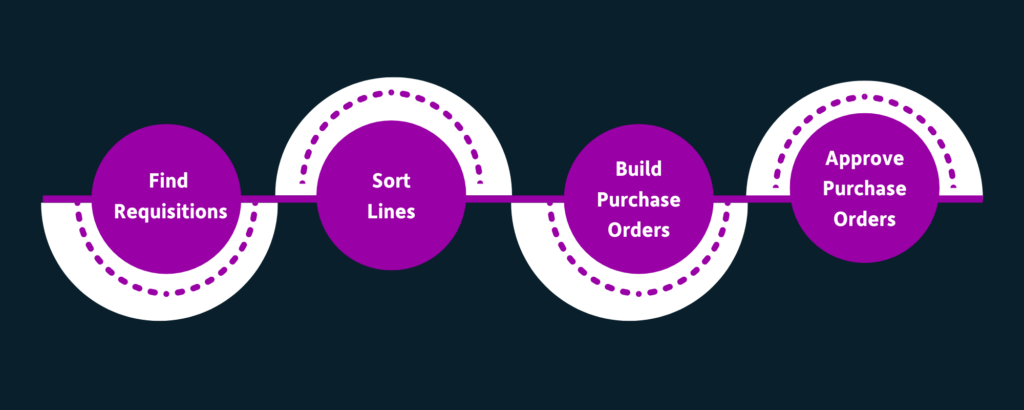 It improves efficiency by allowing buyers to sort and filter requisition lines for multiple purchase orders on one worksheet. Since the work is in Excel, buyers can see several rows and it's easier to scroll, zoom, and more.
Errors are eliminated and the process of purchase requests is simplified because it's in Excel. Moreover, buyers can see all the requisition and purchase order data in one place.
The minor data manipulation that is needed occurs in Excel.
It validates the requisition data, supplier information, and more before creating the purchase order, ensuring accuracy and quality.
Provides the opportunity to update purchase order details directly before submitting for approval.
When converting requisition lines to purchase orders in Oracle, the More4apps ERP Cloud Toolbox Document Builder functionality is the best alternative to automation.
Conclusion
Converting requisition lines to purchase orders can be daunting for those that use Oracle Fusion Cloud for procurement. However, by utilizing automation and the More4apps Document Builder, you can make this task faster and easier.
The Document Builder, combined with the power of Excel, makes the procurement process easier as it reduces the work effort, improves accuracy, and makes your organization more efficient. By uniting the More4apps Cloud Toolbox and procurement automation, you will have a more streamlined, purposeful procurement environment for your employees and suppliers.
If you want to learn more about the More4apps ERP Cloud Toolbox, schedule a customized demonstration or try it for 7 days – commitment free!
Additional Resources
Brochure
ERP Cloud Toolbox Product Guide
Brochure
Harness the Power of Excel in ERP Cloud
Brochure
ERP Cloud Toolbox Procurement Module
Visit our Resource Library for more materials or connect with an expert today!
Connect with us on our social networks: @more4apps