Oracle ERP Cloud Migration is Nailed by U.S. Construction Company
September 12, 2022
Avoid Transferring Out-of-Date Data to Oracle ERP Cloud
Case Study – Construction Industry
To avoid transferring out-of-date data to their new Oracle ERP Cloud system, a US construction company underwent a significant data cleansing.
Continue reading and learn how the company successfully migrated their data using a customized Excel spreadsheet.
About the Client
A construction company headquartered in California, USA with operations across 30 US states. On average, the company manages over 100 private and commercial projects.
The Problem
The project management team is responsible for commercial and residential builds. No matter the size of the project, managers need to be conscientious of recording the project's progression.
Project management had to manually create projects and maintain details, like tasks and resource assignments. It was a tedious and time-consuming way to oversee each construction project. Rightfully so, project managers were frustrated because they spent more time at their desks manually entering information or revalidating it to ensure it was accurate and relevant than in the field.
Data bottlenecks slowed the process, which resulted in inaccurate project information for the billing cycle. In turn, impacting the company's bottom line.
Clients were beginning to question the company's integrity because they noticed that the number of billed administrative services wasn't right in addition to the total amount due.
On top of the billing issues, the construction company struggled with its recent migration to ERP Cloud. Soon after moving to ERP Cloud, they learned that its internal developed project management program, which used Microsoft Excel, was no longer an option.
Project managers and accountants relied on Excel spreadsheets to keep their data updated. Regardless of how thorough these individuals were with their data processes, there were delays in moving the right data into the Oracle ERP Cloud system, leaving them with multiple spreadsheet versions.
"Ctrl + R": Refreshing Data Processes
It was apparent the construction company's data processes required refreshing (Ctrl. + R). Even though Oracle ERP Cloud had integration points that could help develop a tool internally, it still needed consulting resources and continued maintenance.
Over and above that, the company's opinion was that the system's performance was poor, inflexible, and difficult for end-users to identify errors.
More4apps provides total peace of mind for US Construction Company.
Case Study
US Construction Company Nails Migrating to Oracle ERP Cloud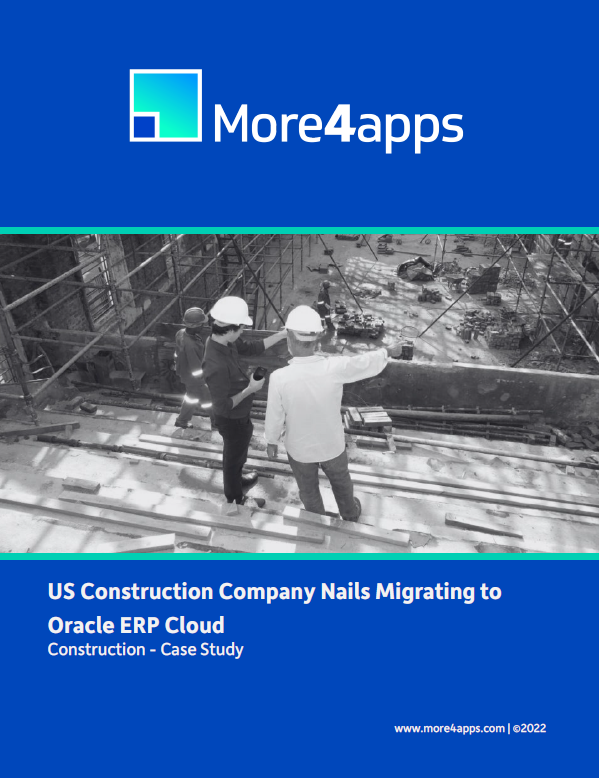 The Solution
After researching options like BDISOAP, VBCS (REST), and ADFdi, the company decided to try the More4apps simple-to-use Excel-based ERP Cloud Toolbox Project Module.
Throughout the implementation process, More4apps worked with each project manager to gain a clear understanding of the potential ROI, and ongoing process updates.
The end-users were pleased that the More4apps tool integrated directly with Oracle. This removed manual processing and the need for more data entry steps. The Projects Module provided managers with reports and without delays.
After migrating to Oracle ERP Cloud and using the More4apps Projects Module, project managers entered their data using a single Excel spreadsheet to set up projects, manage ongoing updates, such as task assignments, and maintain work plans.
Before uploading to Oracle, data was validated directly in the spreadsheet, making sure errors were flagged. Therefore, getting rid of the chance to add bad data into Oracle.
Total Peace of Mind
Immediately, the company benefited with a 70% reduction in the time it took for project data entry. Project managers dedicated more time to the analysis work and to improve client gratification rather than struggling with data entry.
Now, the finance team knows the data they are using to bill for project services has been validated and is correct.
Furthermore, by using the Excel-based More4apps Project Module, the IT department doesn't have to develop or deploy custom solutions. Thus, removing the impact on custom solutions because of Windows quarterly security releases and patches.
Using the More4apps Project Module to load data into Oracle, has given the company and its employees' total peace of mind and the confidence to stand behind their data knowing it's correct and up-to-date.
Brochure:
Harness the Power of Excel in ERP Cloud
Visit our Resource Library for additional materials or connect with an expert today!