MrExcel Presents: Project Accounting in Excel
March 15, 2023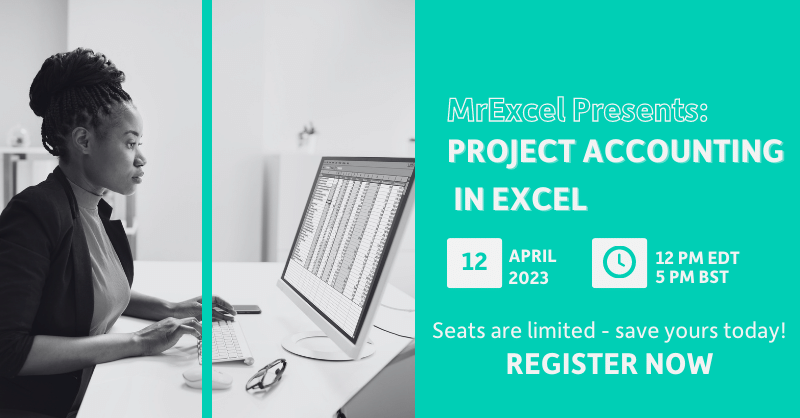 12 April 2023 @ 12 PM EDT | 5 PM BST
Webinar
Join us for this one-hour live webinar where Bill Jelen, aka "MrExcel," will demonstrate how to effectively and efficiently maintain Project Accounting in an Excel spreadsheet. Those who attend the live broadcast and participate in the poll questions, will receive 1 CPE credit. CPE credits will be distributed the week following the webinar by MrExcel.
If you do not receive your CPE credit, check your spam folder. If your CPE credit is not in spam, then please email marketing@more4apps.com and team member will help you. Do you want to attend the webinar but can't make the noted date and time? That's ok! Register anyways and you will receive the webinar materials the day after the live broadcast.
Seats are limited – save yours today!
---
During the webinar, you will discover:
Budget versus Actual: How can you merge a top-down budget with bottom-up actuals? Learn how to use the Data Model in Excel to create relationships between tables with different levels of granularity.
Projecting your Forecasted Completion Date: You have 72 work days to complete 300 units of work. Log your progress each day and have Excel predict if you will finish on day 70 (great!) or day 170 (oh no!). Learn how that dreaded "dotted red line" on the chart can forecast your propensity to procrastinate.
Visualize your Project PPrSan with a Gantt chart in Excel. True, Excel does not offer a built-in Gantt chart. But there are plenty of ways to hack one together. Watch as MrExcel builds a Gantt Chart with conditional formatting and then download the finished workbook.
Store your team task list in OneDrive so the entire team can easily access the report and use Excel Sheet View to see just their tasks. Also check out how the new threaded comments can allow you to alert other team members that you have a question about a task.
Project Tracking and Project Review in Excel: Quickly create and maintain projects, tasks, and other related information.
Meet the Presenter
Bill Jelen -MrExcel
Bill Jelen is the host of MrExcel.com and the author of 64 books about Microsoft Excel including: Excel Gurus Gone Wild, Pivot Table Data Crunching, and Excel Inside Out. He has made over 80 guest appearances on TV's Call for Help with Leo Laporte and was voted guest of the year on the Computer America radio show.
Jelen produced over 2400 episodes of his Excel video podcast entitled Learn Excel from MrExcel. Before founding MrExcel.com in 1998, Jelen spent twelve years "in the trenches", as a financial analyst for the accounting, finance, marketing, and operations departments of a publicly held company.
---
Previous Webinars Hosted by MrExcel
On-demand webinar
What's New in 2023 with Excel?
On-demand webinar
Date & Time Formats in Excel: Automate Formulas for Budgets, Price List, and More
On-demand webinar
Tips to Perk up your Excel Workbooks with MrExcel
On-demand webinar
What's New in Excel with MrExcel
---
Additional Resources