Accounts Receivable Team Accelerates End-to-End Billing Process on Oracle ERP
January 24, 2023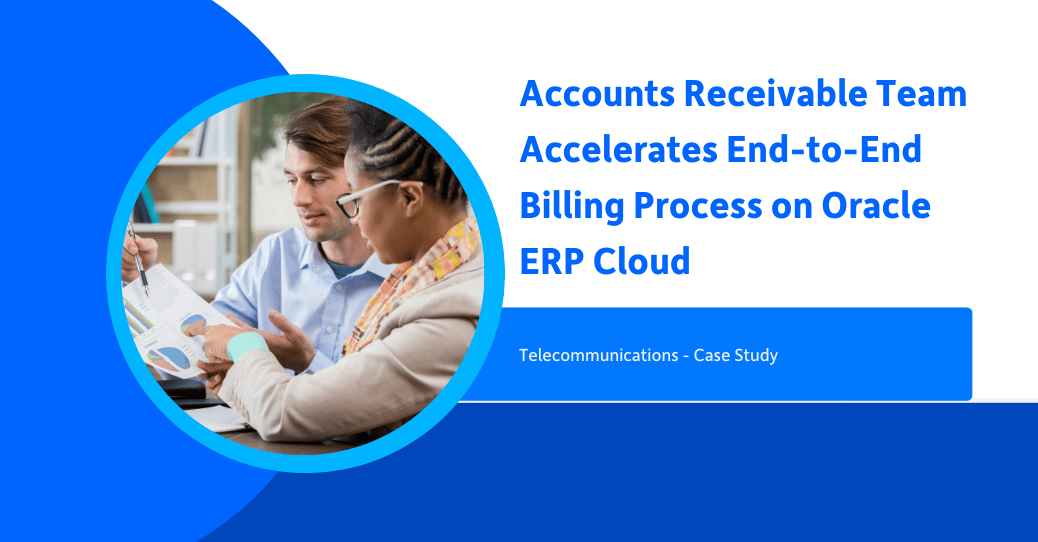 Quickly & Easily Handle Data for AR Transactions
Case Study – Telecommunications
To eliminate manually creating hundreds of monthly AR transactions and to reduce human error, a UK-based company removed its hassle-prone tools and switched to a user-friendly solution.
Keep reading and discover how our customer took back control of their data-loading process and regained confidence in their data with a secure, trusted, and proven solution from More4apps.
About the Client
A leading UK broadband, video, and mobile communications provider with 80 million home business and mobile subscribers and annual revenues of £5.8 prepared to migrate to Oracle Fusion Cloud.
The company set out to find the best AR data-loading tools for their business users to help with implementing their new ERP system.
The Problem: Difficulty with Built-In Options for AR Data Loading
Every month, the client's Accounts Receivable (AR) teams manually create about 400 monthly AR transactions and enter them into their Oracle ERP system, which is time-consuming and error-prone. Manually entering these transactions into their Oracle ERP is not practical in terms of time and effort.
The AR team used the More4apps AR Invoice Wizard for Oracle EBS for nearly a decade to load and oversee AR transactions. However, as the company switched from Oracle E-Business Suite to Oracle Fusion Cloud, a new data-loading tool was required.
At first, the IT team hoped that FBDI, Oracle's built-in data-loading tool, would meet the needs of the AR team. However, when end-users tested FBDI for loading AR invoices, they discovered it wasn't an intuitive solution.
Using FBDI was a complex process that made users nervous at nearly every step. The FBDI template was hard to populate and use as it lacked embedded validation. Instead, users received a separate PDF error report that was difficult to understand and reconcile within the spreadsheet.
Users required constant assistance from Oracle AR consultants to fix errors during FBDI testing. The entire process took far too much time and effort from both the IT team and the business users.
More4apps Simplified Process Flow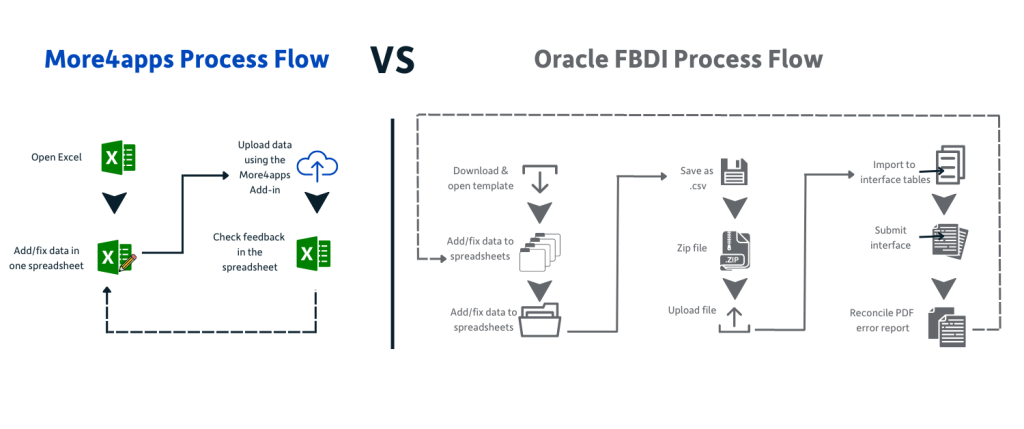 Quickly & Easily Handle Data for AR Transactions
Case Study
Accounts Receivable Team Accelerates End-to-End Billing Process on Oracle Fusion Cloud Applications
The Solutions: Turning to a Trusted Third-Party Tool
Based on FBDI user testing, the IT team realized they needed a different tool for AR data-loading. When they told Oracle they needed a more user-friendly solution, Oracle endorsed the More4apps ERP Cloud Toolbox.
Since the AR team already knew More4apps and had used it for EBS, they were pleased when IT asked them to test More4apps for Oracle Fusion Cloud.
During testing, the AR team quickly recognized the advantages of the More4apps AR integrator. In addition to the program's simple Excel interface and customizable templates, real-time validation reduced errors.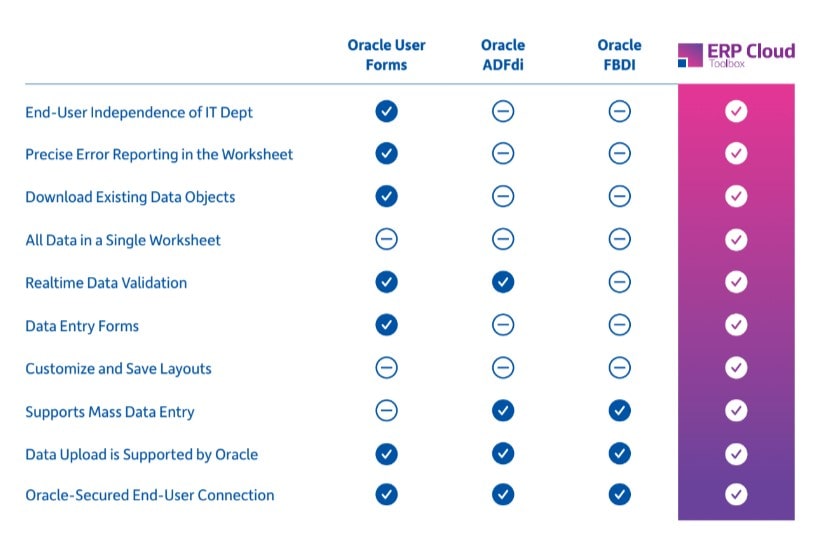 The ability to use data forms to enter or complete datasets, including adding customers and payment terms, was also valued by users. More4apps users receive immediate processing feedback in the Excel spreadsheet.
Successfully transferred records are highlighted in green, while errors are featured in red. Each error shows users a clear, actionable error message. These messages help users quickly fix and re-upload the record without relying on the IT team.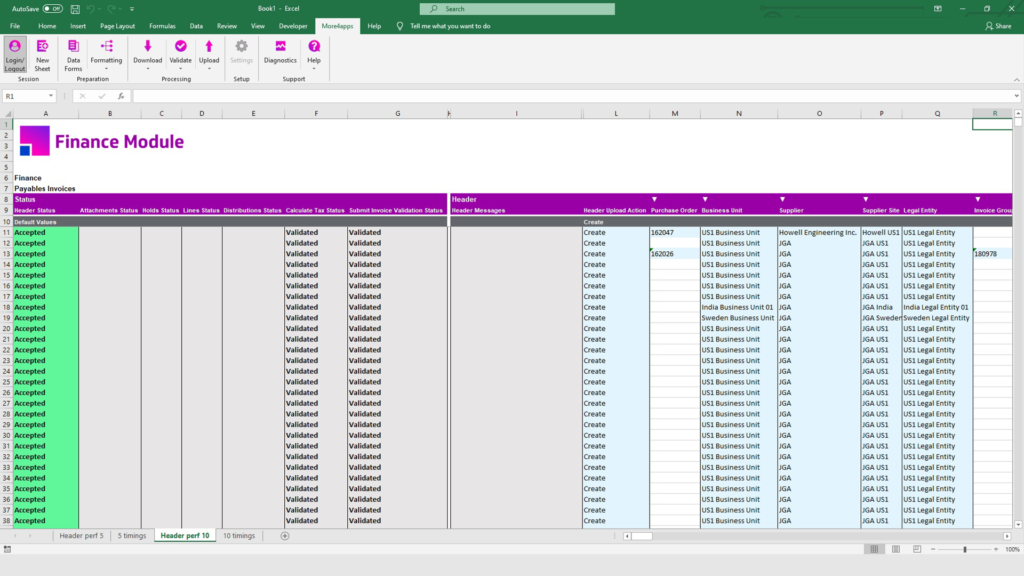 The Result: Empowering End-Users to Complete Daily Tasks Efficiently
The testing phase revealed that the end-to-end billing process with More4apps would be much faster and easier than with FBDI. Following the success of the testing, the company went live in January 2023 with Oracle Cloud Fusion and the new AR processes powered by More4apps ERP Cloud Toolbox.
More4apps has given the AR team confidence in their ability to complete daily tasks and increased their acceptance and comfort with the Oracle Fusion implementation.
The More4apps Excel interface makes it simple to get AR invoices and transfer AR transactions into and out of Oracle. Using More4apps allows the AR team to fix their data rather than relying on and waiting for IT.
Additionally, More4apps adds new features based on the market demand. A new template will be released in 2023 to load on-account Credit Memos.
As a result of selecting the More4apps ERP Cloud Toolbox, the AR team's productivity has significantly increased. Therefore, the entire company benefits from a better AR and billing process.
Brochure:
Harness the Power of Excel in ERP Cloud
Quickly & Easily Handle Data for AR Transactions
Case Study
Accounts Receivable Team Accelerates End-to-End Billing Process on Oracle Fusion Cloud Applications
Visit our Resource Library for additional materials or connect with an expert today!