Arby's has the Meats, More4apps has Time Saving Solutions
September 12, 2022
Time Saving Solutions that help your Company Streamline its Data Processes
Case Study – Hospitality
Arby's Restaurant Group Inc., now part of Inspire Brands, has relied on the Oracle E-Business Suite to control their vendors, procurement cycle, and supplier payments. Discover how Arby's sped up their productivity and implemented time saving solutions by using the More4apps suite of products.
To learn how you could experience a time savings around 91%, read the full case study.
Accelerate Workforce Productivity
Arby's stayed true to its values and its productivity goals using the More4apps suite of tools. Oracle's Purchasing team used More4apps tools to create standard Purchase Orders. The team could create and modify Purchase Orders in bulk, using the Excel spreadsheet interface.
The More4apps tools allowed the team to create new orders by importing flat files or downloading and reusing older data. The Excel spreadsheet is intuitive and removes involvement from IT so teams could now own their data processes and were free to make changes to fille layouts.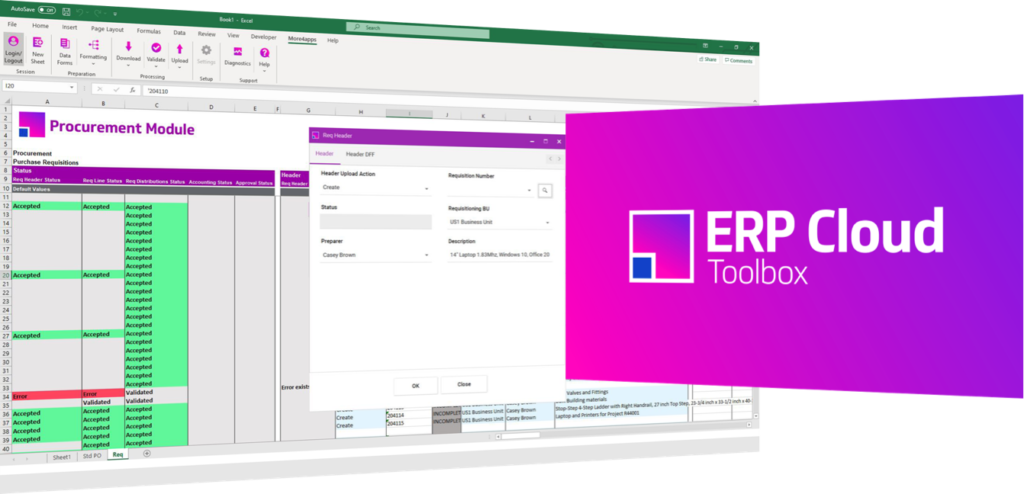 Repercussions of using FBDI
Arby's realized that it needed to migrate to ERP Cloud and they knew that their options for loading bulk PO data in a user-friendly environment were limited.
At the time, the company's IT team employed File Based Data Integrator (FBDI). Even though the program had templates for faster data entry, it didn't help Arby's achieve their data processing goals. FBDI was slow, not easy for the end-user, required technical expertise, and each data section was a worksheet. This meant that four sheets were required to create one PO, and FBDI didn't offer real-time interaction, validation or feedback.
The More4apps ERP Cloud Toolbox delivers faster and error-free data. Most importantly offering significant time and cost savings.
Process POs in Oracle ERP Cloud & Experience a 91% Time Savings
Arby's has the Meats, More4apps has the Time Saving Solutions
Building Better Business Processes
More4apps recognized and seized the opportunity to build better business processes by harnessing the power of Excel to clear data bottlenecks.
Therefore, the solution needed to be compatible with the on-premise Oracle Fusion application. The product experts were realistic and appreciated that this solution would become obsolete with the changes in the Oracle architecture going to Cloud-based applications.
However, it was a stepping stone for More4apps as it laid the foundation for a new architecture supporting Oracle's REST and SOAP web services.
Arby's evaluated their data-handling options and summarized their comparison via the chart on the right.
More4apps has partnered with Arby's to fine-tune their Cloud applications, easing the transition of Oracle users migrating from Java-based Oracle EBS forms to the new Cloud forms user interface, eliminating retraining efforts.
Considerations
Project planning and milestones
Connectivity and instant access
The development cycle of a totally new software
Tight timeliness to synchronize with ERP Cloud apps go live
Classify requirements and use cases
A coordinated approach to Oracle support and development
Project Outcomes
More4apps delivered a day early
Go-live on Cloud happened on time
One week into go-live of the More4apps Oracle Cloud ERP Toolbox Procurement Module, Windows version was missing dlls for one user
No bugs
Inspire Brands found they could save up to 55 minutes processing a 100-line Purchase Order.
The Road Ahead
Since experiencing a successful migration to Oracle ERP Cloud, the company executed plans for other brands that are moving from Oracle E-Business Suite to ERP Cloud.
Inspire Brands is interested in other Cloud product releases, like accounts payable invoices, accounts receivables, project suppliers, and assets. Therefore, More4apps and Inspire Brands are joining efforts for future data migrations.
Arby's changed its procurement process by shaving up to 55 minutes off the time taken to process a 100-line PO. The decision to implement the More4apps ERP Cloud Toolbox throughout the business was finalized after seeing the positive impact.
Additional Resources
Visit our Resource Library for more materials or connect with an expert today!