Allegheny Cloud Network Group
February 22, 2023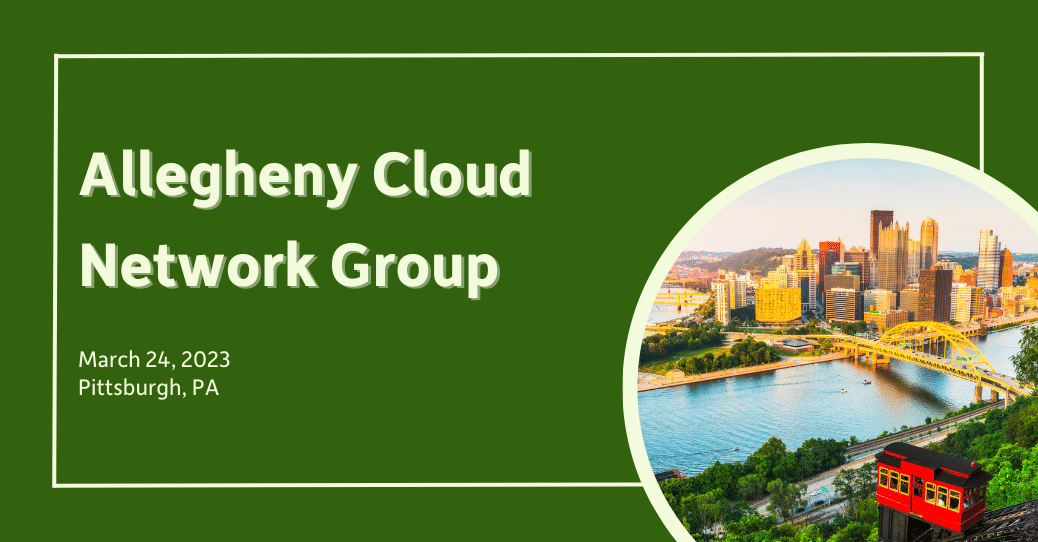 24th of March 2023 | Pittsburgh, PA
Event
Join the Allegheny Cloud Network Group on March 24th, 2023 at Salvatore's Pittsburgh, PA for an afternoon of networking and in-depth learning sessions with presenters from the area's top-notch software companies that leverage the power of clean and up-to-date data for better reporting and analysis to help make better business decisions.
Seats are filling up fast! Complete the short form to reserve yours today.
---
About the Event
March 24th, 2023 | 11 am – 3 pm | Salvatore's Pittsburgh
---
Purpose
The ACNG is a network of professionals looking to expand their knowledge about Cloud technologies. Professionals all over the world are invited to participate and help western Pennsylvania, West Virginia, and Ohio communities.
Vision
The ACNG's vision is to bring people together to help them have successful endeavors in their daily work lives. The more network group members attend, the more knowledgeable they will be.
Values
The ACNG values its community and the people in it. Therefore, ACNG focuses on bringing people together through knowledge sharing and networking.
Goals
It is the ACNG goal to connect people in a positive way and better educate our community on Cloud technologies.
---
About the Presenter
Rick Matthews, Sr. Account Executive
Rick is no stranger to More4apps, being a user of our products for over 10 years he is almost a wizard from More4apps himself. After doing a bit of consultancy work, it was his passion that lead him into sales, and just like any salesperson, once you get him talking, it's hard to get him to stop.
Throughout his years he has become very knowledgeable in the world of Oracle, and with his contagious personality and the ability to be a team player this makes him a very valuable member of the global team.
Outside of work, Rick likes to do exactly that, be outside. Hiking, biking, golfing and swimming are all on the top of his list of things to do.
If you are one of those lucky people that get to spend time with Rick on his day off (and he's completed his 'honey-do' list) you might get the one off chance to join in karaoke with his sing along song of choice being Country Roads by John Denver.
---
Additional Resources
Solution Sheet
Improving Oracle ERP Projects Data Processes in Excel
Brochure
Harness the Power of Excel in ERP Cloud
Visit our Resource Library for additional materials or connect with an expert today!