Excel-erating Data Entry Bottlenecks in Oracle ERP Cloud
May 2, 2023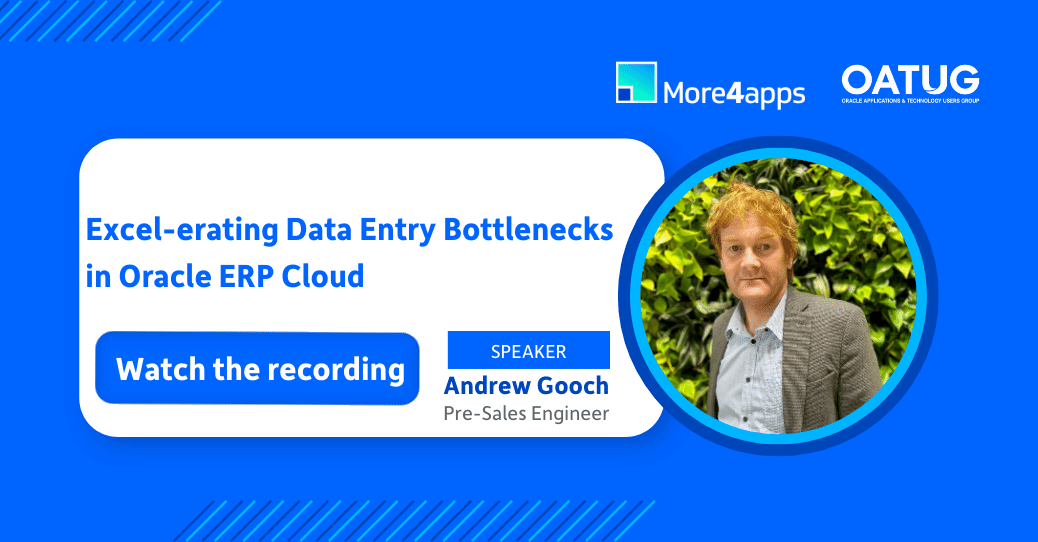 On-Demand Webinar
When overseeing data entry in Oracle ERP Cloud some tools prove to be a bottleneck as these tools are prone to user error and impact completeness, which results in a higher error rate for overall data quality.
In this webinar, Andrew Gooch, More4apps Pre-Sales Engineer, shared ways that businesses can assess current data processes and tools.
Excel-based tools for data entry allow users to run advanced validation checks, receive real-time error messages, work with reusable layouts, and upload data en mass quickly and efficiently.
Furthermore, users clear data bottlenecks and deliver faster, error-free data loading while achieving significant time and cost savings. Watch the webinar recording to see how you can harness the power of Excel.
Watch the webinar
---
Objectives
Assess your current data quality
Implement a single Excel spreadsheet solution that was designed with the end-user in mind
Improve efficiencies and accuracies of your data entry
Meet the Presenter
Andrew Gooch, Pre-Sales Engineer
Andrew Gooch has an extensive history working with Oracle EBS. Gooch resides in the UK with his family and works at More4apps as the technical lead in Europe. He creates and assists customers with implementing More4apps solutions.
In his spare time, Gooch is at the local football field playing soccer, running or spending time with his family. Alongside his passion for sports , he has an interest in foreign language and traveling.
Gooch isn't afraid of a challenge and believes in making the most of the opportunities thrown his way.
---
Additional Resources
Brochure
ERP Cloud Toolbox Product Guide
Brochure
Harness the Power of Excel in ERP Cloud
Visit our resource library for additional materials or connect with an expert today!