2023 ERP Trend Report: Leveraging Tech to Remove Human Error
December 1, 2022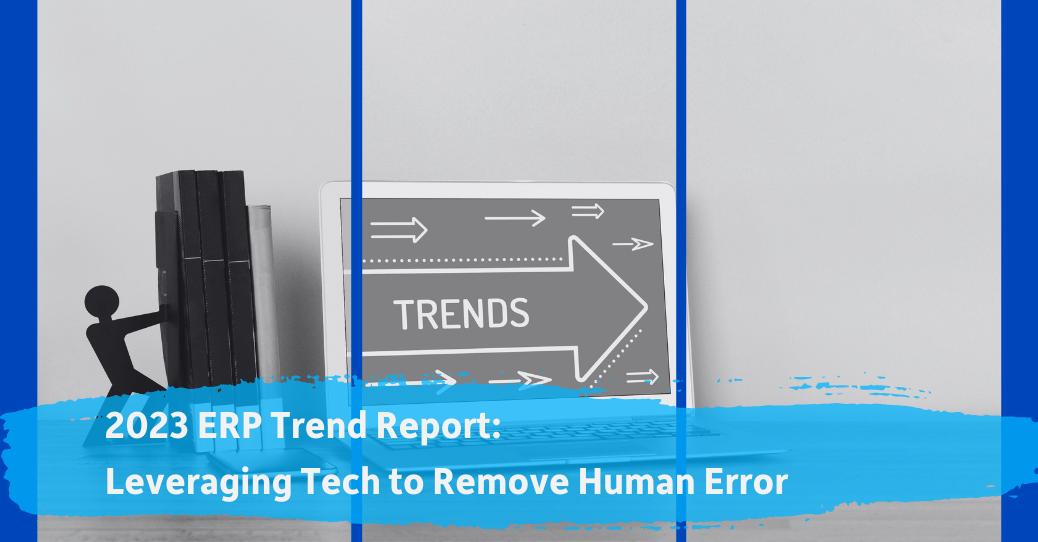 Preventing Poor Data with Better ERP Processes & Technology
Poor quality data is unfavorable for every business. Inaccurate and incomplete data hinders your ability to make sound decisions. It leads to wasted resources, lost sales, lackluster customer relations, and unreliable forecasts. The research group Gartner reports that the annual cost to a business dealing with low-quality data ranges from $9.7 to $14.2 million.
A major cause of poor data quality is human error. Whether it's mistyping a figure, inputting a number in the wrong place, or overlooking a field, it is easy to make mistakes. Complicated software and confusing ERP data processes multiply the problem.
As companies seek to improve data processing and quality in 2023, a solution is arising: leverage technology and automation to eliminate human error. In this article, we'll explore Oracle ERP data best practices and review which processes and tools commonly lead to user error. Finally, we'll dig into how third-party technology can increase ERP accuracy and simplify Oracle data maintenance.
ERP Data Best Practices for Reducing Errors
ERP Data Processing Tool Pitfalls that Impact Accuracy
Oracle offers several built-in tools for data maintenance, but these fall short for end-users. They are hard to navigate and use, leading to errors and low-quality data entering your ERP system. Let's look briefly at each.
Oracle Forms
Oracle forms make data entry tedious and repetitive. The interface is unfit for importing or extracting bulk data, with records split into several forms. Users must go through form sections in a manual and slow process. Coupled with the complicated Oracle forms layout, the entire process is prone to errors.
WebADI (Oracle E-Business Suite)
WebADI has a complex interface and prevents most users from adjusting spreadsheet layouts to fit their needs. Instead, users must navigate large sheets full of unnecessary fields, leaving lots of room for human error. Additionally, maintenance and patching require technical expertise to avoid losing data from any custom layouts you create.
FBDI (Fusion Cloud Applications)
FBDI templates are confusing and inconsistent, with no easy way to populate data sets. Loading multiple sections of data requires linking different spreadsheets. The error feedback is hard to understand and is provided in a separate PDF, which users must reconcile with the spreadsheet before making changes. Additionally, data pre-validation is unavailable.
ADFdi (Fusion Cloud Applications)
ADFdi is more user-friendly than FBDI but works for limited use cases. Users can only open one field at a time, with no way to see all information for an entire section of data at once. This limited view makes catching errors less likely.
A Third-Party Tool for Improved ERP Data Processing
Trusted by hundreds of companies and thousands of global users, More4apps software integrates directly with Oracle to let users create and edit ERP data through Microsoft Excel spreadsheets. More4apps software makes Oracle ERP data maintenance simple and mistakes much less frequent.
More4apps users have full Excel functionality, including formulas, default values, and copy and paste. Users can eliminate many manual, repetitive, and error-filled aspects of Oracle data upkeep. Spreadsheets are also easily customizable to show only relevant columns, therefore reducing confusion and errors in Oracle ERP data processing.
Within the spreadsheet, Oracle validations like search buttons, dropdowns, and date controls help keep data clean. Pre-validation before upload and real-time error notification further improve data quality. More4apps software highlights each error inside the spreadsheet, with clear error messages explaining how to fix mistakes so users can move forward quickly and efficiently.
After loading data, users can instantly review the changes in Oracle or download projects back to the spreadsheet to verify all changes. More4apps users can see as many rows of data at once instead of one data point at a time.
These features help More4apps tools give data ownership and control back to business owners. Teams become less reliant on IT and improve accuracy by quickly identifying and addressing errors as they arise.
Incorporating Robotic Process Automation (RPA)
When companies need to move data between systems, manually rekeying or copying and pasting is too slow and error-prone. Instead, companies can save time and increase accuracy with robotic process automation (RPA).
Historically, the complexity of Oracle's UI has made using RPA for ERP data entry difficult, but More4apps makes it easy. Since the UI for More4apps is Excel, RPA bots can operate the toolbar functions while More4apps tools handle the data upload. The process is much faster and more reliable than pairing RPA with Oracle forms data entry.
Benefit from Better ERP Data
By leveraging More4apps, RPA, and other automated processes, companies can reduce manual ERP entry and empower end-users, significantly improving data quality. Improved data quality leads to better reporting, insights, and business decisions.
You'll also eliminate time spent tracking and fixing mistakes and free up team members from repetitive data entry tasks. It's a win for everyone!
Discover how More4apps data loading tools will increase your ERP data accuracy. Connect with a More4apps expert today to discuss your needs and request a free trial.
---
Brochures
Visit our Resource Library for additional materials or connect with an expert today!