Accelerate Oracle Projects Data Updates in Excel
November 1, 2022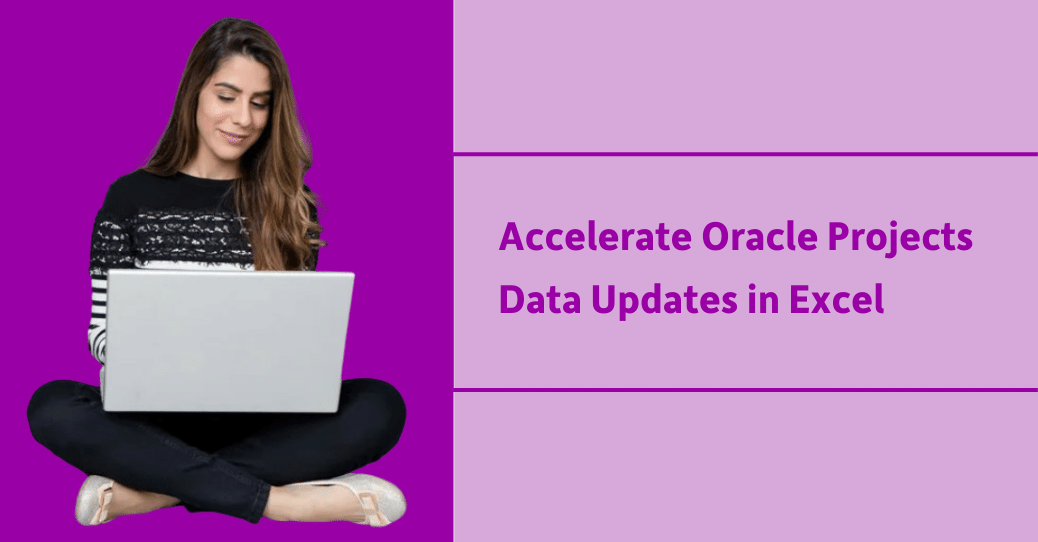 If you use Oracle Projects in Oracle Cloud ERP or E-Business Suite, you know how complicated and time-consuming changes to multiple projects, tasks, and attributes can be. The same goes for setting up new projects. Executing Oracle Projects data entry with built-in Oracle forms or tools like FBDI is slow and frustrating for users.
With those tools, much of the work is manual and repetitive. It's too easy to get lost in the navigation, miss a step, or mis-enter data. When problems occur, the error messaging in Oracle's basic uploaders is confusing.
Finding a better way to accurately and quickly update Oracle Projects is critical to the success of your financial processes and reporting.
Our Excel-based software solves these problems. More4apps data loading tools for Oracle Projects empower users to download, edit, and upload data within a single Excel spreadsheet. The spreadsheet provides a secure, integrated connection to your live Oracle E-Business Suite or Oracle ERP Cloud data, ensuring the accuracy of data loading and analysis, all through a familiar Excel interface.
In this post, we'll explain how using an Excel-based solution makes Oracle Projects data entry and maintenance more efficient and accurate.
Make Data Loading and Editing More Efficient at Scale
Maintaining dozens, let alone hundreds or thousands of projects manually is too cumbersome, and you'll never be able to keep up. Using Excel can automate much of that manual labor, cutting project creation and updates from hours to minutes and from minutes to seconds. Rather than navigating complex forms and columns to enter values one by one, you can rapidly enter the information directly into the cells of a spreadsheet.
Save time by:
Copying and pasting multiple values at once
Applying formulas
Setting default values to avoid repetitive data entry
Adjusting the spreadsheet layout to your needs
Reusing project templates
Using all of the features available inside Excel
With More4apps, you login to Oracle right from the spreadsheet. Uploading and downloading is as simple as the click of a button. Download existing projects, modify, and re-load as updates or new projects.
These Excel-based tools let you edit and maintain:
Project headers
Classifications
Tasks
Key/Team members
Transaction controls
Costs and adjustments
Budgets, Award budgets, and Forecasts
Assets and assignments
Resource lists
Resource assignments
Events
Agreements and funding
Labor cost rates
UNASSIGNED Asset Lines
When your work is complete, upload everything in your spreadsheet or only what you've selected. No matter the volume of data, loading is always fast. Unlike seeded Oracle tools, More4apps tools handle one-off changes and mass updates.
Since Excel is a familiar tool and More4apps is easy to learn, you'll save time on employee training. It's simple to install and use right out of the box so that your team gets up and running immediately.
Improved Data Accuracy for Less Effort
Using More4apps products speeds up Oracle Projects data entry and improves accuracy. For starters, by using template sheets, formulas, copy and paste functionality, default values, and more, you'll remove manual entry, which leads to fewer errors.
The software's real-time data validation prevents poor data from reaching Oracle. Errors and feedback are returned directly to the Excel sheet. Straightforward and actionable on-sheet error messaging makes mistakes easy to find and fix.
You can also access all the familiar Oracle validations, including search buttons, dropdowns and date controls where appropriate inside the spreadsheet.
After each download and upload, More4apps provides a summary of the load. Upon loading new data into Oracle, you can immediately check the changes in Oracle or download the projects back into the spreadsheet to verify and view all changes. Where Oracle forms limit you to reviewing only one data point at a time, More4apps gives you the entire picture and the ability to review as many rows of data at a time and as needed.
Spend Less Time Loading Data & More Time Managing Project Success
The benefits are numerous for users working with an Excel spreadsheet to streamline Oracle Projects data entry and improve data quality. Empower teams with self-service capabilities and it becomes easier to get mass changes, budgeting, and other duties done on-time without IT involvement. Respond faster to ad hoc requests and urgent needs, including rapidly reassigning team members.
More4apps users also have greater confidence that their work is accurate and up-to-date. As leaders and other departments see increased speed, consistency, and quality of your work, trust in your team and your leadership will grow. You and your team will gain time for more engaging work with broader impact, like implementing transaction controls and more detailed budgeting to help the business make better decisions.
Compare Against the Competition
Our solutions empower users by providing ownership of the entire data loading process.
No knowledge or training needed of data interface mechanisms, as More4apps products seamlessly connect to Oracle EBS and Oracle Fusion Cloud Applications.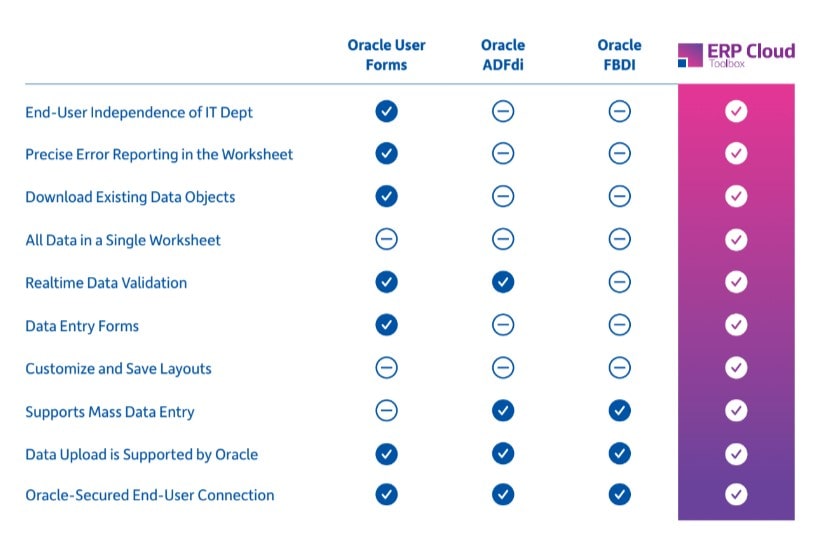 See What Projects Processes You Could Simplify
Are you ready to find out how a powerful spreadsheet solution could help you with projects data maintenance? More4apps has helped 450 organizations and 34,0000+ users worldwide improve their data processes. 
Our Excel-based tools provide the most efficient and user-friendly option to accelerate your Oracle Projects data entry and editing. 
To discuss your needs further, get in touch today.