Eliminate Complex Data Loading Processes in Oracle Fusion Cloud Applications
July 13, 2023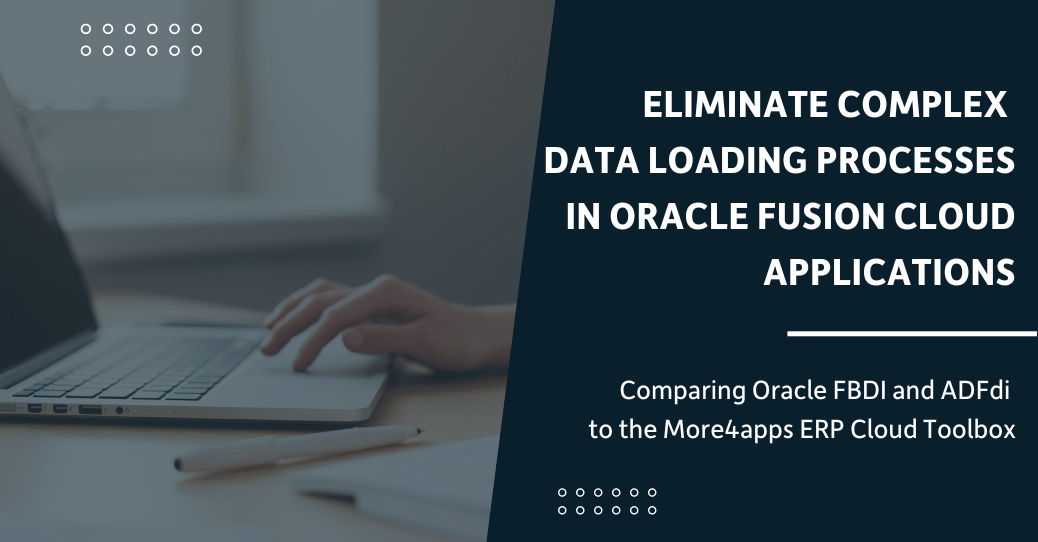 Comparing Oracle FBDI and ADFdi to the More4apps ERP Cloud Toolbox
Data loading processes are crucial to business strategy and decision-making as they rely on accurate, up-to-date data. Without this, forecasting and reporting are unreliable. Surprises and challenges arise that you haven't prepared for.
Basing decisions on poor-quality data lead to damaging reputations, lost revenue, wasted resources, and even legal problems. It also causes internal teams to lose trust in business systems and leaders. Correcting inaccurate data, which compounds over time, is expensive and time-consuming, so it's best to get it right from the start.
The problem is that businesses are flooded with data from different sources and formats, all of which need to go into your ERP. While Oracle Fusion Cloud ERP is a powerful application, efficient data entry isn't its strength.
Loading and updating data in Oracle can be a real bottleneck with a high chance of errors that result in incomplete and inaccurate data.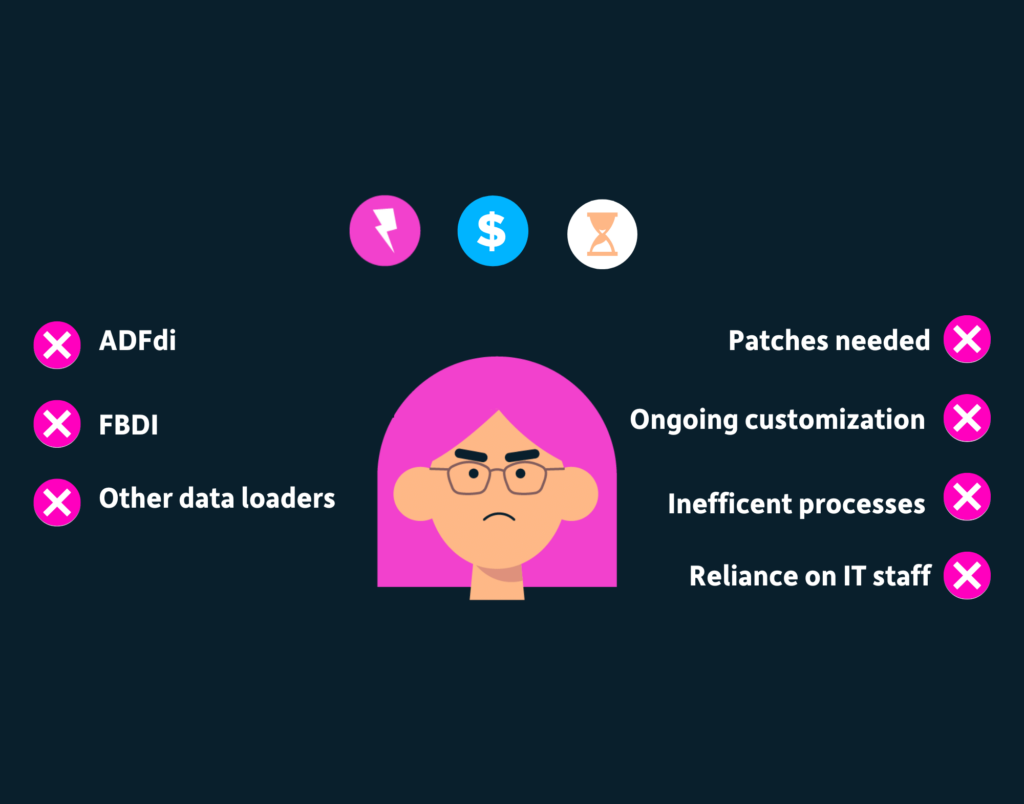 Oracle's user entry forms are too complex, slow, and hard to use, especially for significant data volumes.
For more efficient data loading, companies can use a spreadsheet-based data loader. Excel spreadsheets improve data visibility, reduce navigation between screens, and allow for formulas, lookups, and copy and paste.
For spreadsheet data loading in Oracle Fusion Cloud, the top contenders are two free pre-built solutions from Oracle and the third-party Excel-based software from More4apps. Let's look at each!
File-Based Data Import (FBDI)
File-Based Data Import or FBDI is perhaps the best known data loading tool for Oracle Cloud Fusion. Oracle provides an array of FBDI templates. Each template is tailored for a specific task and populated by the user in Excel.
The templates can function well for static data, and many companies use them for migrations, mergers, and acquisitions. However, the lack of flexibility in these templates prevents FBDI from working well for dynamic data sets. FBDI also has no download functionality, which makes populating spreadsheets for data updates difficult.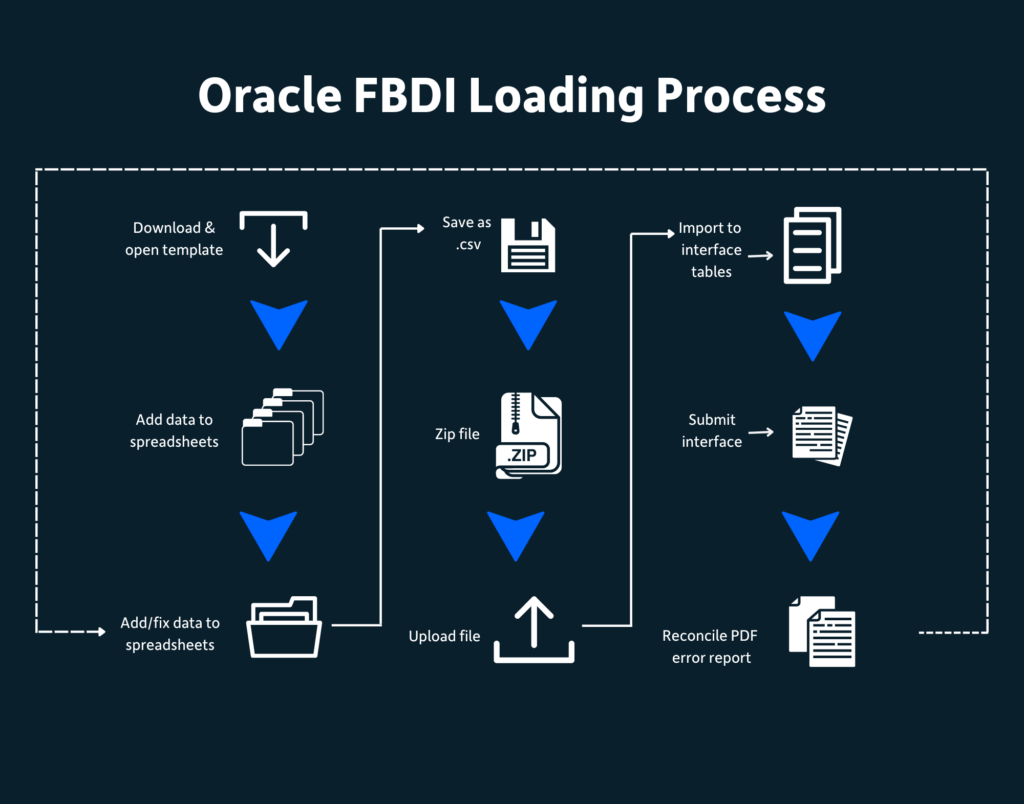 Another problem is that FBDI is too complicated for most non-technical users. The templates essentially require one file per data section. For example, headers, lines, suppliers, and sites must go on separate worksheets. Then, you need to properly link these spreadsheets to load them in the correct sequence, meaning headers must be processed before lines are uploaded.
Overall, the FBDI loading process is complex and convoluted. This is especially true for errors. There are minimum validation features and errors are listed in a PDF document separate from the spreadsheet used for the upload.
To address errors, you have to update the data, relink the worksheets, and then repeat the data loading process for the failed records.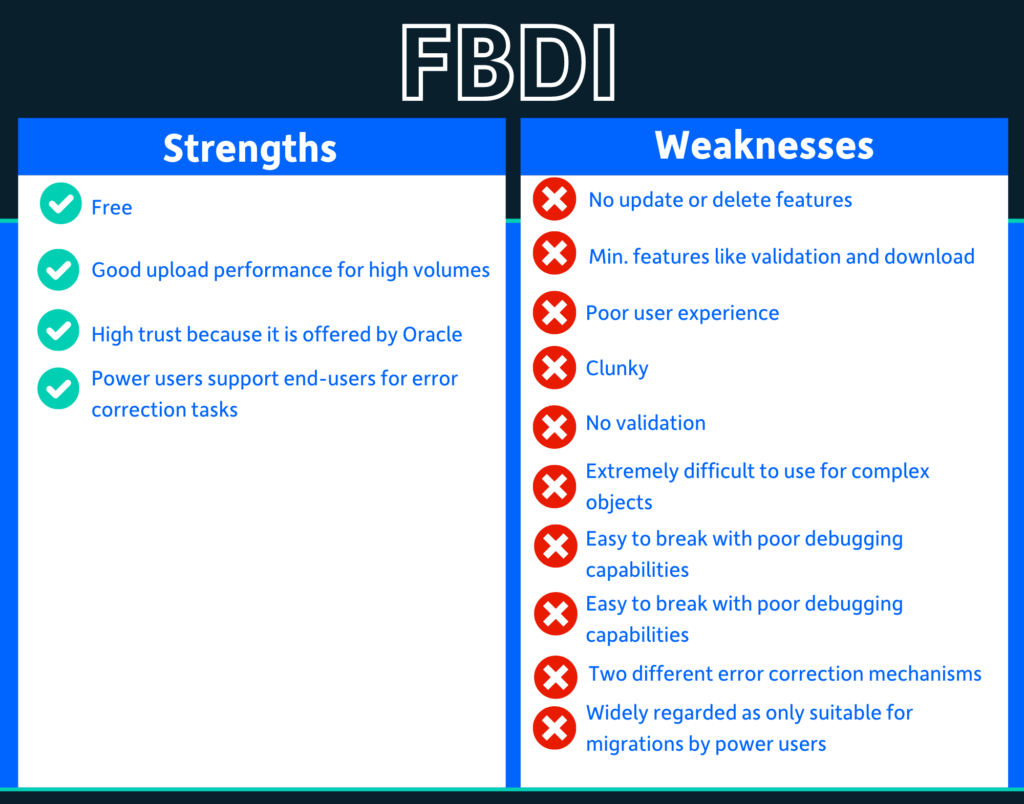 Application Development Framework Desktop Integration (ADFdi)
Application Development Framework Desktop Integrations or ADFdi is another free Oracle solution that will look familiar to users of Web ADI in Oracle E-Business Suite.
ADFdi is more user-friendly than FBDI and allows you to directly load your data from a predefined Excel template, with real-time data validation in the spreadsheet. Error resolution is also easy since feedback is returned in-line on the spreadsheet.
However, there are still downsides. ADFdi templates exist only for a handful of processes, with little flexibility to change things, like what columns appear or their order. Another hurdle is the one sheet per record type requirement.
You need a sheet for headers and a sheet per header for its lines. If there is more than one level, you need a sheet for each level of your hierarchy, and they all have to be linked. This is a real hassle! Because you can only open one field at a time, you won't be able to glance over your data from top to bottom to check for errors.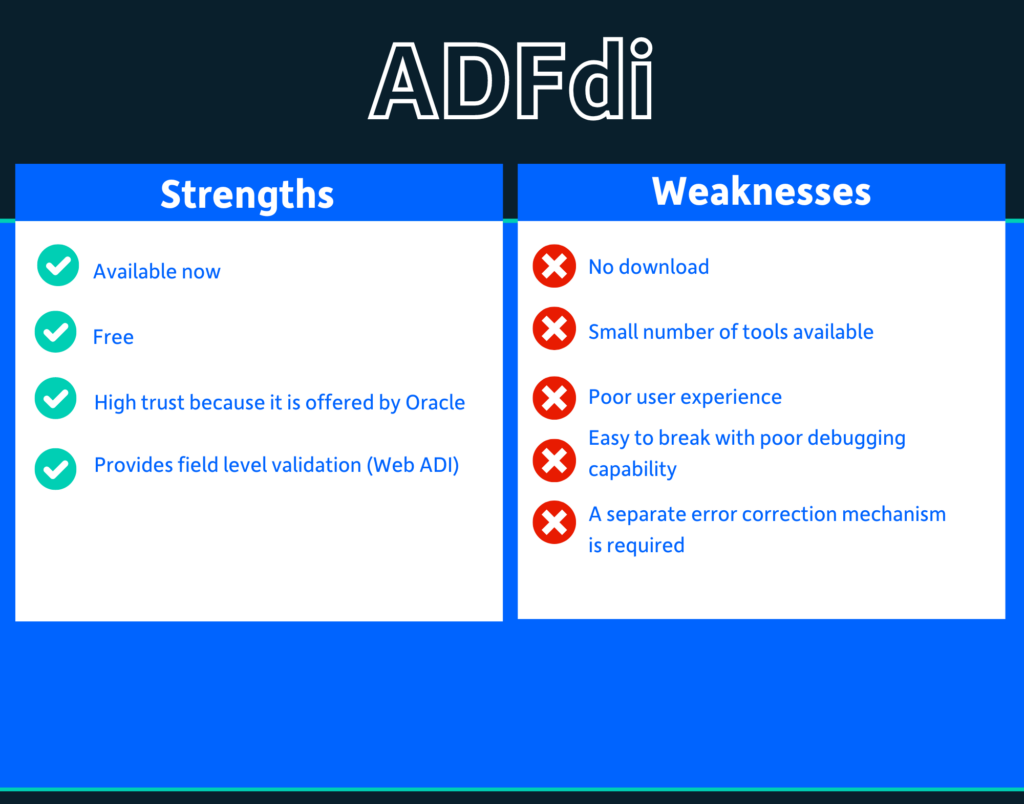 Like with FBDI, download functionality for ADFdi is also limited. In many cases, it's not available or it's unsuitable for your needs. Finally, users have reported issues with larger volumes (i.e 500+ records) and performance, and keeping ADFdi running will require significant patching and re-testing.
The More4apps Oracle ERP Cloud Toolbox
More4apps offers easy-to-use third-party software that directly addresses the weaknesses in Oracle's data loading tools and processes. With two decades of experience creating robust, stable, and secure software for Oracle ERPs, More4apps is a trusted Oracle partner.
The More4apps ERP Cloud Toolbox provides the speed and efficiency of spreadsheet-based loading without making you rely on busy IT resources or expensive technical support.
Inside a familiar Excel-based interface with a real-time Oracle integration, data is easy to manipulate, upload, and download. Fully customizable layouts and reusable worksheets deliver ultimate flexibility for your business needs.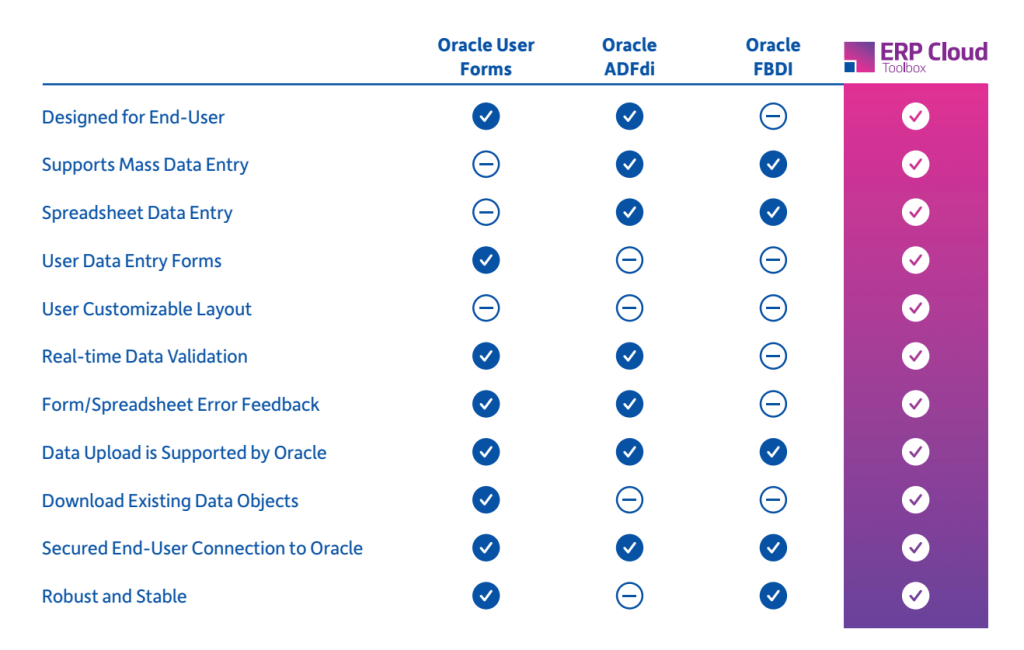 Advanced data validation happens, pinpointing the errors before sending data to Oracle for uploading, which reduces errors and increases data quality. Everything takes place in a single intuitive worksheet, from complex hierarchical data validation to data loading to error response and resolution. This allows users to view all data in one place and gain complete autonomy and control over data entry.
Picking the Right Data Loader
Oracle's tools are more suited for niche use cases. They lack the features and functionality most businesses need and rely heavily on expert technical users.
In some cases users need to use FBDI and ADFdi. For example, creating AR invoices requires FBDI to create the invoices and then it needs ADFdi to fix errors in the stagging interface table. That's two technologies for one data loading process.
For everyday end-users, these tools cause a lot of frustration, slowdowns, and mistakes. More4apps Excel-based software is the more intuitive solution.
Designed specifically to meet the needs of the end-users responsible for data loading, More4apps software outperforms FBDI and ADFdi in flexibility, ease of use, reliability, and advanced data validation.
In the long run, choosing the More4apps ERP Cloud Toolbox will save you time and money for the efficiency and accuracy you gain in data loading.
Additional Resources
Brochure
ERP Cloud Toolbox Product Guide
Brochure
Harness the Power of Excel in ERP Cloud
Whitepaper
Data Loading: What are the choices?
Case Study
Oracle ERP Cloud Migration is Nailed by U.S. Construction Company
Visit our Resource Library for more materials or connect with an expert today!
Connect with us on our social networks: @more4apps