Excel Tips for Year-End
November 8, 2023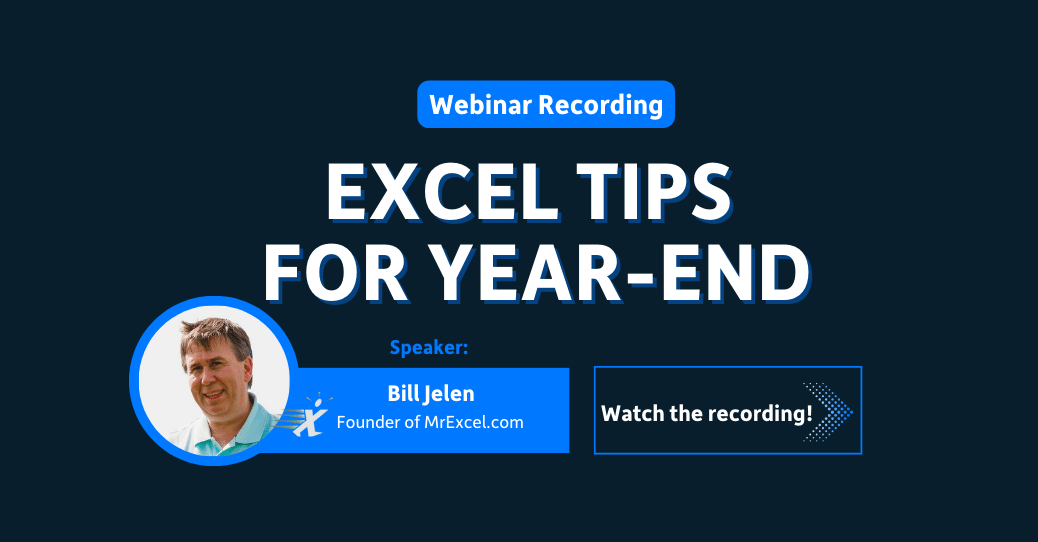 On-Demand Webinar
Year-end is just around the corner for most organizations and that means it's time to gather key data like company performance, financial information, and other major KPIs.
Get ready for year-end by attending this free webinar that is presented by Bill Jelen, 'MrExcel'. Jelen will give you all the Excel tips and tricks you need to support your year-end data initiatives.
Those who attend the live broadcast and answer 3 out of the 4 poll questions will receive one CPE credit. If you can't attend the live webinar, register anyway and you will receive the recording and related resources shortly after the broadcast.
Webinar topics include:
Calculating year-end bonuses in Excel
Year-end sales analysis with Excel charts
Year-end budget versus actual analysis using Excel
Cheating year-end summary spreadsheets
Excel functions for year-end data cleanup
Webinar Recording
---
About the Presenter
Bill Jelen is the host of MrExcel.com and the author of 64 books about Microsoft Excel including: Excel Gurus Gone Wild, Pivot Table Data Crunching, and Excel Inside Out. He has made over 80 guest appearances on TV's Call for Help with Leo Laporte and was voted guest of the year on the Computer America radio show.
Jelen produced over 2400 episodes of his Excel video podcast entitled Learn Excel from MrExcel. Before founding MrExcel.com in 1998, Jelen spent twelve years "in the trenches", as a financial analyst for the accounting, finance, marketing, and operations departments of a publicly held company.
---
Previous Webinars Hosted by MrExcel
For additional information, visit our resource library or connect with one of our data loading experts.
Connect with us on our social networks | @more4apps