What We Support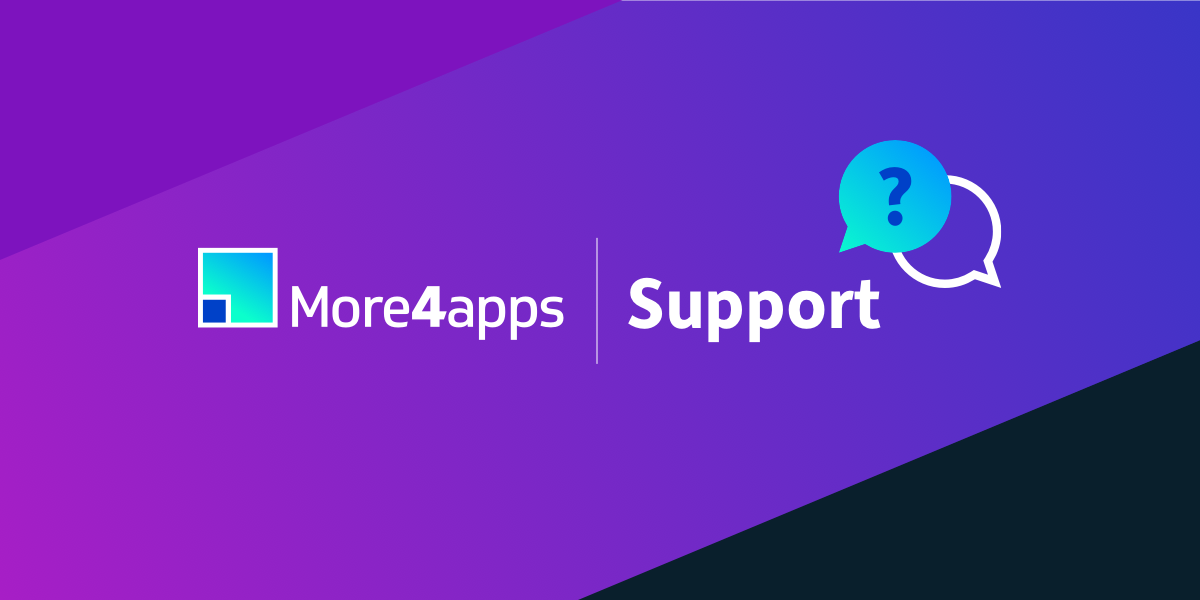 The More4apps support process gets you answers as quickly as possible, wherever you are in the world. We know and understand that your ERP System is central to your business. Therefore, we want to remove the risk of technical issues negatively affecting your business processes.
Data is at the core of your business but without the right tools you're at risk for inefficiencies, inaccuracies, and dependencies on other resources. With the More4apps EBS Toolbox and ERP Cloud Toolbox you can streamline your tasks with a simple yet powerful Excel spreadsheet. Therefore, helping you to achieve significant time and cost savings.
Throughout this article, you will discover support topics intended for both suites of tools; unless stated otherwise.
Active Licenses
An active license to More4apps solutions grants access to the most current version of products. This allows you to maximize your investment. You can get the new versions from the product download page. Please note that current versions are always available.
Software Upgrades & Updates
Updates to the More4apps tools get published regularly on the website. Release notes that identify the new features and resolved issues will be released.
Sometimes changes are made to the server-side of infrastructure. These changes enable communication with the solutions from the EBS Toolbox or the ERP Cloud Toolbox Excel add-in.
Infrastructure updates impacting the suite of products within the EBS Toolbox should get put on each E-Business Suite instance.
ERP Toolbox product updates should get put on all local devices using the add-in.
Oracle® and Microsoft® Updates
Oracle® and Microsoft® continue to develop their applications and tools. Therefore, providing us the opportunity to improve our tools further. We monitor changes and notify our customers of any implications and new features available as a result of Oracle® and Microsoft® updates. We strive to ensure our products stay compatible with the latest versions.
Product Issues
Our products are the source of our pride. Thus, we perform testing before release, but when an issue arises, we provide a solution as quickly as possible.
To do so, we use best practices and get your support calls to the right team member. The team member will have the specific domain knowledge of the product and business area in question.
How to log an issue with More4apps Support
Product registration will ask you to identify a main support contact person for your company. That person is provided login details for our support system. Login credentials allow you to log support requests and access other helpful information like product release notes and frequently asked questions (FAQs).
Alternatively, you can log support tickets directly through our helpdesk portal. Our Support team will review the issue and respond.
When you are logging new support tickets, provide the following to help get to the heart of your issue quickly:
Be as descriptive as possible. The more information and context we get, the quicker we can diagnose a problem.
Provide your entire spreadsheet with your data and any messages, excluding confidential information.
Inserting a debug spreadsheet and replicating the problem in the tool helps us identify additional information.
New More4apps Customers
Installation
More4apps products are quick to install and easy to use based on our experience merging our products with hundreds of Oracle systems.
However, we understand the complexity of Oracle ERPs with their associated software suites and the myriad of possible error messages. We help you get the most out of any More4apps product through the Helpdesk portal.
Virtual & Onsite Training Options
As part of your investment, every customer's in-house expert will receive two hours of More4apps product training at no cost.
Training occurs virtually with the expectation that the business representative understands the business functions and part of Oracle that is relevant to the purchased product.
Upon request, onsite training is available but at a costs to account for travel and accommodation.
Special Requests
Enhancement Requests
Our continuous improvement, customer-focused mentality welcomes feedback to help us prioritize features that better serve our customer's needs.
Should you require an urgent enhancement to one of our products, we may be able to re-prioritize your request, but at a charge to cover the cost of unexpected delays and interruptions to our planned enhancements.
We cannot accommodate paid enhancements to our ERP Cloud Toolbox at this time. However, we encourage you to communicate your requirements, as your feedback and feature requests will directly influence the prioritization of product changes.
Compatibility
Our products are compatible with the bulk of business environments. Below are details for your technical team to review.
Client
The recommended minimum operating system is Windows 10.
Minimum Office version Office 2013. Macros need to be enabled while running the solutions in the EBS Toolbox.
No additional software is required (e.g., ODBC, JRE).
Our products may work with earlier versions of Windows or Excel, but we do not test or formally support these releases.
Server
Database version 11g and above.
Oracle E-Business Suite 11.5.10.2 onwards (i.e. 11.5.10.2, 12.0., 12.1., 12.2.*).
Any hardware platform.
We only support environments with the database initialization parameters set as per MOS notes 216205.1 for 11i and 396009.1 for R12.
Not Supported

Apple Mac.
The codebase for Mac versions of Excel is too different from the PC version, and MS Windows components required to integrate Excel with a web server are not available in Mac's operating system.
Office 365 (Cloud Edition)
More4apps does not support the Cloud edition of MS Excel. To use the More4apps tools, your users must continue to use the desktop version of Excel. Please ensure that your Office 365 implementation takes this into account. The desktop edition is available with the Office 365 ProPlus licensing option.
Product Security
More4apps is proactive in monitoring and addressing any security vulnerabilities associated with our software products. Customers are encouraged to keep their More4apps products installed at the most current versions.
How More4apps Supports you
More4apps offers a wide range of products across many business functions and have intentionally built our support team to have extensive knowledge so they can efficiently assist our customers.
There is a high chance that you will come across someone who was an Oracle consultant or someone who spent many years working in the same business function as you.
Aside from practical experience, we pride ourselves in advanced knowledge of the Microsoft development toolset, Oracle E-Business Suite interfaces, and Oracle ERP Cloud web services.
Over the past 20+ years, we have built a strong reputation for having technical and functional knowledge of Oracle modules and an understanding of the business processes that our tools support.
Tools we use
As our tools are based on Oracle® & Microsoft® technologies, we utilize their technical support knowledge in addition or out own expertise. When a support issue is attributable to the technology stack, we may complement our support responses with a knowledge base reference.
Seeing your issue firsthand is essential to providing the most efficient support. We use web meeting technology to work directly with you on a non-production instance.
More4apps maintains many different on-premise versions of Oracle E-Business Suite configured with Oracle's vision instance information. We will use our instances to debug and determine how Oracle E-Business Suite APIs and interfaces work.
Important for ERP Cloud Toolbox Customers
To enable better and more timely support on Oracle ERP Cloud instances, we recommend that you replicate product issues on the same version in a non-production environment.
We can access your test environment and better assist with issue diagnosis and resolution. Unfortunately, due to the nature of Oracle Cloud's web services, we cannot deep-dive into issues as we can with Oracle's APIs in E-Business Suite.
If we can't resolve issues with Oracle web services, we may need to assist you in logging support tickets with Oracle MOS on your CSI number.