What We Support
September 11, 2022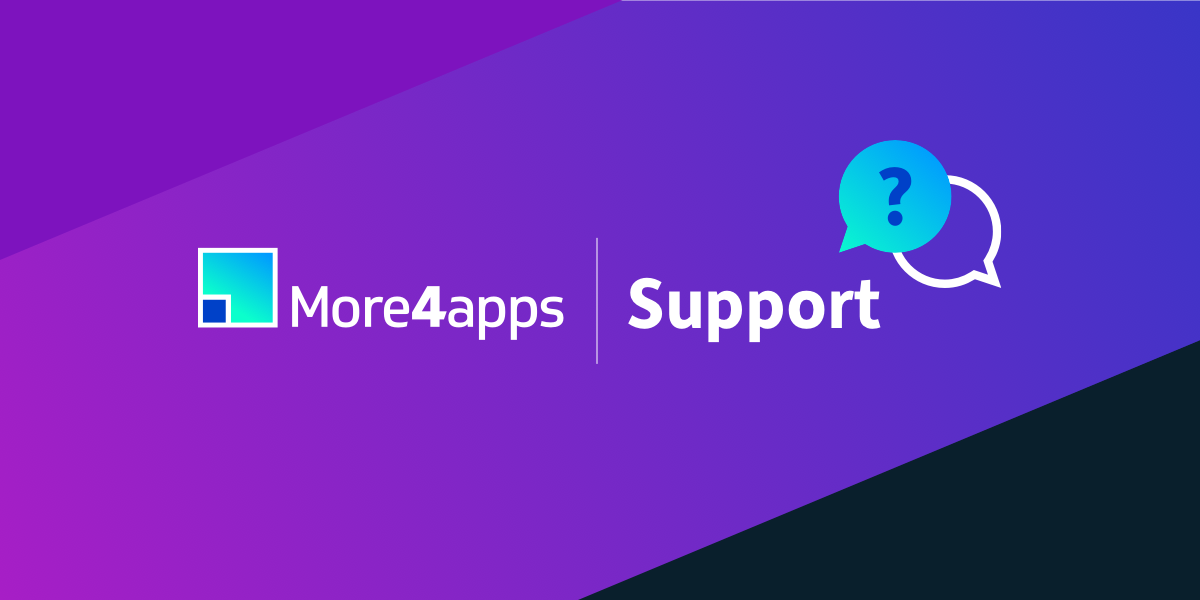 Your ERP System is central to your business. Therefore, any technical support issues with your More4apps tools can have significant impacts on your business processes. Our support process has been designed with the objective of getting you answers as quickly as possible, wherever you are in the world.
More4apps has two distinct product offerings for Oracle ERPs. For Oracle E-Business Suite there is our comprehensive range of Wizards packaged as our 'EBS Toolbox' and for Oracle's ERP Cloud you'll find our recently released 'ERP Cloud Toolbox'. Unless specifically stated, this article describes support for both our product ranges.
Current version is always available
An active license to a More4apps product allows access to use the most current version of products to make sure customers are able to maximise their investment. These new versions can be downloaded at your convenience through the 'Product Download' page of our website.
Software Upgrades and Updates
Updates to the More4apps tools are published regularly on the More4apps website. Release notes are provided with the updates which identify the new features added or issues addressed by each release.
From time to time we may also make changes to either the server-side infrastructure that enable the communication with the wizard tools, or the ERP Cloud Toolbox Excel Add-In. EBS Wizard infrastructure updates need to be installed on each e-Business instance. Updates to our ERP Cloud Toolbox products will need to be installed on all local devices using the Add-In.
Oracle® and Microsoft® Updates
Oracle® and Microsoft® continue to develop their applications and tools, and in doing so, provide us the opportunity to further improve our tools. We actively monitor any changes and keep our customers notified of any implications and new features available as a result of Oracle® and Microsoft® updates. We strive to ensure our products stay compatible with the latest versions.
Product Issues
Our product is the source of our pride so we perform extensive testing on our products prior to release, but occasionally an issue will arise. Our aim is to provide a solution as quickly as possible no matter where the problem lies. To do so, we use best practice by directing your support calls to the right team member with the specific domain knowledge of the product and business area in question.
How to log an issue with More4apps Support
Product registration will ask you to identify a main support contact person for your company. That person is sent login details for our Support system which provides access to log support requests and other useful information like product release notes and Frequently Asked Questions (FAQs).
Alternatively, you can log support tickets directly on our website: Request Product Support – where one of our Support team review the issue and provide an initial response.
Please remember when logging new support tickets that we prefer to get to the heart of the issue as quickly as possible for a fast resolution.
Pro-Tips to help us help you:
Be as descriptive as possible. The more information and context we get, the quicker we can diagnose a problem.
Send us your entire workbook with your data and any messages. With the exception of any confidential information.
Inserting a debug worksheet and replicating the problem in the tool really helps us identify additional information. (Hyperlink to Debugging Documentation)
New to More4apps
Installation
More4apps products are designed to be quick to install and easy to use based on our experience integrating our products with hundreds of Oracle systems. However, we understand the very real complexity of Oracle ERPs with all their associated software suites and myriad of possible error messages – so we are always available to help you get the most out of any More4apps product through the Support Login section of the More4apps website.
Training
Two hours of More4apps product training for every customer's nominated in-house expert is offered as a standard as part of any More4apps product purchase at no additional cost. Training is conducted via a web call. The in-house expert is expected to already have a thorough understanding of the relevant business functions and the part of Oracle relevant to the product you are purchasing. Training for any of our tools can be arranged either in person or over the web on a time and materials basis. Onsite training will incur additional charges to cover additional travel time and travel/accommodation expenses.
Special Requests
Enhancement Requests
Our continuous improvement, customer-focused mentality welcomes feedback to prioritise features which better serve our customers needs. Feedback & enhancement requests are added to our extensive product improvement pipelines. Should you require an enhancement urgently for one of our Wizards or Loaders, we may be able to re-prioritize for your enhancement request at a fair charge to cover the cost of unexpected delay and interruption to our already planned enhancements. At this time, we are not able to accommodate paid enhancements to our ERP Cloud Toolbox Modules, but please still let us know what you require as we will be using your feedback and feature requests to directly influence the prioritization of product features and changes.
Customizations
More4apps products are designed to work with most Oracle implementations, however, some customers' Oracle setups have unique business rules. In these scenarios, Microsoft Excel® macros allow most customers to build sufficient rules into More4apps products to cater for their needs. If additional customizations are required we do provide customization services at a fair cost agreed upfront. Due to the complex and continually changing nature of Oracle's ERP Cloud we are not offering customization services for our suite of More4apps ERP Cloud Toolbox Modules at this time.
Compatibility
Our products are compatible with the large majority of business environments. Below are some details for your technical team.
Client
Recommended minimum Operating System Windows 10.
Recommended minimum Office version Office 2013. Macros need to be enabled while running the Wizards.
Note: No additional software is required on the client (e.g. ODBC, JRE).
Our products may work with earlier versions of Windows or Excel but we do not test or formally support these releases.
Server
Database Version 11g and above.
Oracle E-Business Suite 11.5.10.2 onwards (i.e. 11.5.10.2, 12.0., 12.1., 12.2.*).
Any hardware platform.
We can only support environments that have the database initialization parameters set as per MOS Notes 216205.1 for 11i and 396009.1 for R12.
Not Supported
Apple Mac.
The codebase for Mac versions of Excel is too different to the PC version, and MS-Windows components required to integrate Excel with a web server are not available in the Mac's operating system.
Office 365 (Cloud Edition).
The cloud edition of MS-Excel does not provide any automation features (VBA). The browser based spreadsheet is not related to the desktop version of Excel. In order to use the More4apps Wizards, your users must continue to use the Desktop editions of Excel. So please ensure that your Office 365 implementation takes this into account. The Desktop edition is available with the Office 365 ProPlus licensing option.
OpenOffice.org
Google Sheets
Product Security
More4apps is extremely proactive in monitoring and addressing any security vulnerabilities associated with our software products. If a threat or vulnerability is detected by us or reported to us, we would immediately inform all potentially affected customers. In the unlikely event of any security issues, More4apps are committed to providing full support resources to assist affected customers with mitigation and correction activities. Customers are encouraged to keep their More4apps products installed at the most current versions.
How We Support You
Who supports you?
More4apps offer a wide range of products across many business functions and have intentionally built our support team to have extensive knowledge to efficiently support our customers. There is a high likelihood you will come across someone who was formerly an Oracle consultant or someone who spent many years working in the same business function you do. Aside from extensive practical experience, we pride ourselves in advanced knowledge of the Microsoft development toolset, Oracle's e-Business Suite interfaces, and Oracle's ERP Cloud web services. Our strong technical and functional knowledge of Oracle Modules and thorough understanding of the business processes that our tools support, form the foundation of the positive support reputation we are proud of having built over the last 20 years.
Tools we use
As our tools are based on Oracle® & Microsoft® technologies, we make extensive use of their technical support knowledge base as well as using and maintaining our own. When a support issue is attributable to the technology stack, we may complement our support responses with a knowledge base reference.
Seeing your issue first hand is essential to providing the most efficient support. We use web meeting technology such as Zoom or GoToMeeting to allow us to work directly with you on a non-production instance.
More4apps maintains many different on-premise versions of Oracle e-Business Suite configured with Oracle's Vision instance information. This allows us to use our own instances to debug and determine how Oracle e-Business Suite APIs and interfaces are designed.
Important for ERP Cloud Toolbox Customers
To enable better and more timely support on Oracle ERP Cloud instances, we recommend you replicate product issues on a same version non-production environment. In our web meetings with you we are then able to access your test environment with you present to assist with issue diagnosis and resolution. Unfortunately, due to the nature of Oracle Cloud's web services, we are not able to deep-dive into issues as we are able to with Oracle's APIs in e-Business Suite. If we are unable to resolve issues with Oracle web services, we may need to assist you in logging support tickets with Oracle MOS on your CSI number.