Digital Transformation Trends Drive High Demand for Oracle ERP Third-Party Tools
September 1, 2023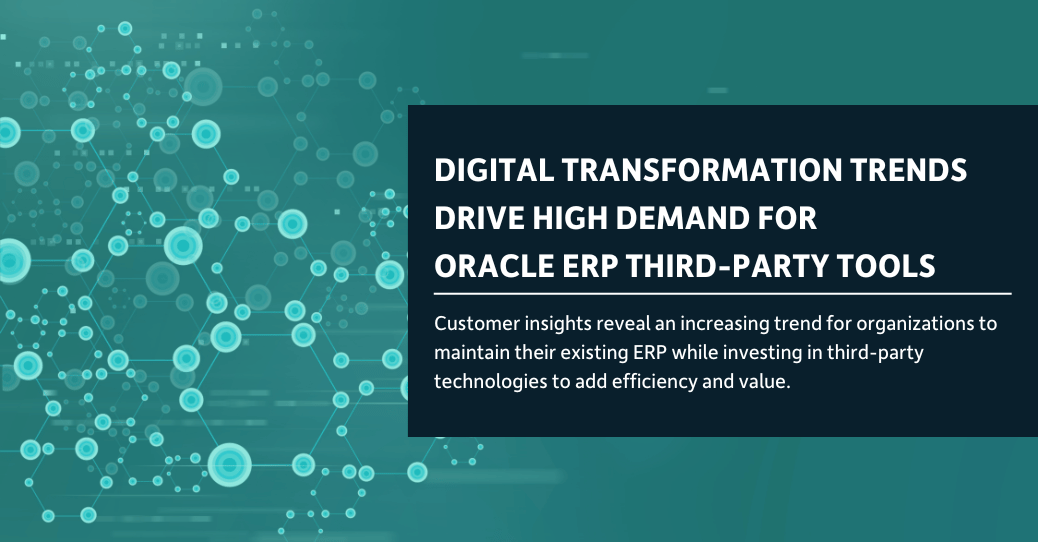 Customer insights reveal an increasing trend for organizations to maintain their existing ERP while investing in third-party technologies to add efficiency and value.
News
More4apps, a leading provider of data loading tools for Oracle E-Business Suite and Oracle Fusion Cloud Applications, has acquired insights from customers that convey a growing focus on digital transformation.
Digital transformation is a process in which organizations integrate digital technologies into fundamental business operations and strategies. It involves leveraging advancements such as artificial intelligence, cloud computing, data analytics, the Internet of Things (IoT), and automation to boost efficiency, optimize processes, and create innovative value propositions for customers and stakeholders.
As part of digital transformation, organizations must examine technology systems and workflows. In the ERP, organizations are identifying opportunities to maximize return on investment for their existing Oracle ERP with help from third-party solutions. Data loading, editing, and management are key areas where leaders see bottlenecks and issues impacting data quality. To address these concerns, organizations desire intuitive add-on tools that require minimal IT support for set-up, maintenance, and ongoing use.
According to More4apps customers, repeat instances of Microsoft product updates breaking Oracle's built-in data loaders have also influenced the decision to speak to third-party solutions.
Additionally, cleaning and transforming data is difficult, but essential for Oracle customers migration to Fusion Cloud Applications. By using More4apps software, organizations can first check the validity of their ERP data to ensure it conforms to defined business rules and constraints. It is here that companies find missing or inaccurate data within their ERP, which is typically a tedious process.
By adopting proven third-party tools like More4apps, Oracle ERP users can automate everyday processes to gain efficiency and cost savings. At the same time, these users can acquire real-time insights, expand reporting capabilities, and much more.
About More4apps
Established in 2000, More4apps was formed by a group of Oracle consultants in Hamilton, New Zealand. As a specialist software provider for both end-users and developers, the core purpose of More4apps products is to allow Oracle E-Business Suite and Cloud ERP users to save time and money by using Excel as an interface for Oracle's Enterprise Resource Planning (ERP) system.
More4apps, an Oracle-certified partner, currently serves more than 34,000 Oracle users in 400 companies worldwide.
Connect with us on our social networks:
---
Additional Resources
Want additional information?