Oracle E-Business Suite Proves Challenging for IT Departments
February 2, 2020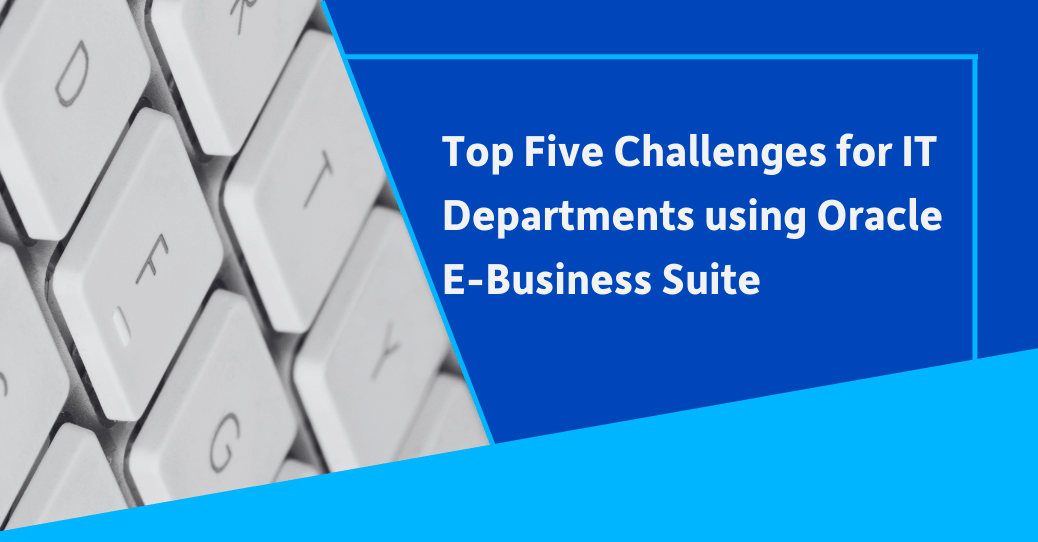 Read this blog and discover the top five issues IT departments face when using Oracle E-Business Suite. Discover how our tools can save you time, reduce errors, and improve job satisfaction and performance.
Top Five Issues
Scarcity of Skilled Resources
As Oracle E-Business Suite (EBS) matures, the skills required to operate it are becoming obsolete. Therefore, increasing the need to train for newer technologies.
The skilled resources that worked on and developed these implementations over the last 25 years are no longer available.
The younger workforce is moving with technology and developing those skills. Those who are available command premium prices. Increasing IT costs present a real risk to businesses that must rely on scarce resources.
Increasing Downward Pressure on IT Operating Budgets
When business face diminishing prospects concerning revenue growth, management focuses on cost reduction.
IT departments cut costs and skilled resources. Consequently, leaving IT leaders in Oracle EBS businesses with limited options.
The options are to move tasks out of the IT department or seek cost-effective technology solutions. These solutions shouldn't compromise the integrity of the ERP nor incur excessive time or cost to implement.
Data in Spreadsheets vs Central Systems
Consider data in spreadsheets versus a central system when implementing large data stores like an ERP system.
Once implemented, the user community adds items that aren't a priority for the IT Department to an Excel spreadsheet. Data manipulation could be an item on this list.
While an excellent solution for a single point in time, that data is quickly out-of-date. Users will end up with multiple versions of the same data.
Data Processing Tasks Allocated to IT Personnel
IT managers were concerned that their teams would become inundated with data processing requests from other business units.
Custom coding or scripts needed to complete standard data processing tasks can overwhelm IT teams .
Furthermore, data owners can resent the time it takes to deliver what they consider to be simple uploads or updates .
A solution that allows data owners to complete mass uploads and updates easily and accurately. This returns ownership and control of the data to its business owner.
Data Bottlenecks Affecting Overall Production
Data bottlenecks with processing can severely impact the productivity and profitability of large companies with significant amounts of transactional data.
Although Oracle E-Business Suite remains a powerful tool for the holistic management of company data, it has limitations. These limitations regard data uploading and updating.
A customer's process issued stock to a processing using bill of materials. This worked well but all items weren't used in the process and were returned to stock.
Instead of processing these items in the system, they ended up damaged on tables.
Business owners can't employ additional data entry staff to clear backlog because of budget constraints. Therefore, they rely on the IT Directors to invest time and resources to develop workable data loading processes within Oracle.
Companies, more often than not, depend on a third-party software solution. Our solutions allow users to integrate their familiar Excel spreadsheet directly with the Oracle ERP. End-users can load their data back into Oracle ERP and keep the ERP's integrity.
Our Credentials
We are a longstanding Gold Partner with Oracle and a 5-Star Partner with OATUG. More4apps has a robust portfolio of Wizards for EBS, proven among over 35,000 users in 38 countries. Our product portfolio has expanded to include tools for Oracle's Cloud ERP.
Do you want to learn more? Then, hit the "Contact us" button to complete the short form and one of our experts will reach out to you directly.
Additional Resources
Visit our Resource Library for additional materials or connect with an expert today!